The Work That Makes Bess UH's Best

By
.(JavaScript must be enabled to view this email address)
Friday - September 01, 2006
|
Share

Del.icio.us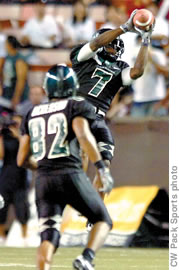 Davone Bess: working overtime
Long before a University of Hawaii football workout begins, as the purple gray skies await the sunrise in the Manoa dawn, a solitary figure can be seen dragging a mechanized ball-throwing machine onto the grass football practice field. As he gets closer you can see extension cords coiled around his shoulders like a bandolier.
As he arrives at his destination, his No. 7 is legible. He is sophomore slotback Davone Bess, last year's freshman All-American, according to outlets such as CollegeFootballNews.com, Rivals.com, The Sporting News and FWAA. And it's not just the numbers - he led UH in receptions (89), scoring (84 points) and touchdowns (14) led the WAC and was fifth in the country in receptions per game (7.42), and was third in the WAC and 17th nationally in receiving yards per game (93.7) - it's how he puts up those numbers.
Acrobatic ladder-climbing fingertip grabs, diving shoestring catches, balls thrown behind him, sometimes plucked from the air one-handed. Why then is this playmaker extraordinaire out by himself in the dark with a ball throwing machine nearly an hour before he has to be? "It's all about the repetitions," says Bess. "The reps make you better."
I ask head custodian Gary Kaneshiro, who readies the practice facility each morning, if he sees Bess frequently this early. "Every day," smiles Kaneshiro. "He's here every single day."
It isn't like Davone Bess has a problem, some flaw in his technique that requires extra work. According to UH coach June Jones, Bess has the best hands on the team. "In fact," says Jones, "Davone has the best hands of anyone I've ever coached. Andre Rison was pretty close. Except Andre would be more likely to be an hour late than an hour early."
Bess catches the ball differently than other players. For most receivers, a ball thrown hard from close range results in a loud smack when it hits the hands. With Bess, no matter how hard a pass is delivered, it silently feathers into his gloved hands.
"I like to put the machine on the highest setting," he says, "then sprint full-speed right at it. That way any pass thrown to me in a game will seem easy."
Bess was a three-sport athlete at Skyline High in Oakland, earning three letters each in football and basketball and two in baseball. But after being named first team all-city as a receiver his junior year, and second team all-city as a quarterback in his senior year, football was the obvious choice for college. A run-in with the police nearly derailed his career.
"It turns out that was a blessing in disguise," says Bess. "I try to share that experience with others, everything that I went through. It taught me not to take anything for granted. I try to stay focused and humble."
Bess also understands the process of setting goals, both for himself and his team. "For the team, we want to win the WAC championship. For me personally, my goal is to be an All-American, and hopefully get a chance at the next level," Bess says.
Preparing for tomorrow's opener against Alabama in Tuscaloosa, Bess' eyes light up when I mention the anticipated sell-out crowd of 92,138.
"Man, I'm excited about that," he enthuses. "This is a chance to showcase what we've got. It's an unbelievable opportunity - I grew up watching teams like Alabama, Florida, Georgia and LSU play in front of huge crowds, and now it's going to be us. We got to make a statement."
As usual, Davone Bess will make his statement in actions rather than words.
Most Recent Comment(s):