Throwing The Book At Athletes

By
.(JavaScript must be enabled to view this email address)
Friday - March 04, 2009
|
Share

Del.icio.us
Former NBA star and current television analyst Charles Barkley was sentenced to a five-day jail term following his guilty plea to two misdemeanor charges related to the same drunken-driving arrest.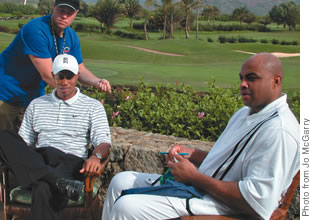 Charles Barkley (right) relaxing on Kauai with pal Tiger Woods
Additionally, Barkley will pay more than $2,000 in fines, go to alcohol-abuse counselling and have to install ignition inter-lock devices in his vehicles. Barkley made a full apology, took responsibility for his actions and said he's learned a lesson.
Now there is a large debate on whether Barkley's punishment was appropriate. I have a thought on that: Barkley's punishment should be the same one that any other citizen would get for the same offense. I don't believe athletes should be treated more leniently, but they shouldn't receive stiffer punishment because of their celebrity either.
Take the case of former Minnesota Vikings great Carl Eller. Eller was arrested for resisting arrest after a traffic stop. When it was time for sentencing, Hennepin County (Minn.)
District Judge Dan Mabley exceeded the prosecutor's recommendations and ordered Eller to 60 days in the county workhouse; prosecutors had asked only for home confinement. The judge said he wanted to send a message that he thought Eller's public criticism of the courts and police were baseless. Eller has filed a federal lawsuit claiming officers violated his civil rights, used excessive force and concealed videotape evidence of his arrest.
Would this have happened had Eller not been a celebrity? And where does the judge get off deciding on the merits of Eller's claims? Shouldn't that be decided by the court that hears his lawsuit? No, athletes should neither get a break nor be treated worse than other citizens. Students will not volunteer a nickel to athletics or anything else. Schools have athletic or student activity fees because they impose them, not because students vote for them.
Impose the fee or don't, but let's be realistic about the process.
The UH athletics budget deficit should not surprise anyone. The economy is affecting just about everything, and athletics is no exception. The idea that college athletics are going to be self-supporting is a lovely thought, but doesn't stand up to scrutiny. UH fields 19 sports. Two of them, football and woman's volleyball, turn a profit.
At football games, UH gets nothing from parking or concessions, and only a portion of the in-stadium advertising. At the Stan Sherriff Center, athletics gets none of the parking, and only a small percentage of licensing and merchandising. Yet the department is supposed to break even?
If you don't want to play at the Division I level, that's one thing.
If you do, accept that UH is going to be like the vast majority of programs at this level and will need to be subsidized.
Most Recent Comment(s):