Tiger's Looking For A New Looper

By
.(JavaScript must be enabled to view this email address)
Friday - July 27, 2011
|
Share

Del.icio.us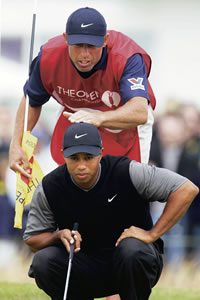 In this 2004 file photo, Tiger Woods and caddie Steve Williams line up a putt at the British Open at Royal Troon in Scotland. AP photo / Adam Butler
The news that Tiger Woods decided to part ways with longtime caddie Steve Williams apparently didn't come as a surprise to some, but don't count Williams among that number. On his website, Williams stated, "After 13 years of loyal service needless to say this came as a shock. Given the circumstances of the past 18 months working through Tiger's scandal, a new coach and with it a major swing change I am very disappointed to end our very successful partnership at this time."
There is some speculation that Williams' recent work with Aussie Adam Scott has caused a rift. Apparently Williams sought and was granted permission to loop for Scott in the U.S. Open after Woods withdrew, but then caddied for Scott at the AT&T National without seeking the consent of Woods. That led to a meeting where Woods fired Williams, who will now work full time for Scott.
It's hard to know if the rift began when Williams was adamant about claiming ignorance on Woods' extramarital escapades, even appearing on 60 Minutes.
Woods and Williams teamed up for 13 of Tiger's 14 major victories, yet he has not been near the top of his game of late and is now recovering from injures. Some golfer/caddy relationships seem inviolate; it's hard to imagine Phil Mickelson replacing Bones MacKay, and Tom Watson was so connected to Bruce Edwards that only death managed to separate them.
Woods is saying all the right things, but you wonder if this would have ever happened if his game had remained razor-sharp.
* The pending NFL labor agreement should lead to a whirlwind 72 hours of frenetic free agent signings and roster moves. Add to the small window a host of new salary cap rules, and you can readily see a nightmare for NFL front offices. Some players should make out handsomely, especially cornerback
Nnamdi Asomugha. Adding to the expected circus is not only the salary cap but also the new floor, which will force some teams (read Tampa Bay Buccaneers), that are way under the minimum to begin spending freely.
It doesn't look like preseason games are in jeopardy, and it should be business as usual in short order. Maybe the most shocking fact to come out of the process is the projections that the current $9.3 billion revenue pool is expected n 10 years to reach $20 billion. The American appetite for NFL action is truly insatiable.
* Mark Aug. 25 on your sports calendar the Pigskin Pigout at Murphy's. The long-running fundraiser will benefit Na Koa Football Club and the Sheraton Hawaii Bowl. For more information, call 531-0422.
Most Recent Comment(s):