Tiger's Mouth, Picking The Magic

By
.(JavaScript must be enabled to view this email address)
Friday - April 21, 2010
|
Share

Del.icio.us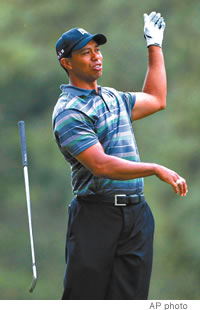 Tiger Woods went back to his old words
A couple of things are evident after last week's Masters at Augusta.
For one thing, Tiger's still got game. To finish fourth after a five-month layoff is almost unbelievable.
For another, those on-course demeanor changes that Tiger was promising aren't going to happen overnight. The emotion with which he plays is part of who he is, for better or for worse.
There has been lots of media hand-wringing about Woods' language, but I've been around sports my whole life and I've heard much worse in just about every sport. Go down on the sideline of a college football game sometime - your ears will burn. I'm not saying that bad language is ideal, but it's a part of the sports landscape.
If you don't want to hear Tiger swear, stop sticking directional microphones at him that pick up his every utterance.
I wonder how many other golfers or athletes in general would pass muster if every word they said was out there for everyone to hear.
We know Woods is far from perfect, but at some point this feels like piling on.
And how about the golf? Tom Watson, Fred Couples, KJ Choi, Lee Westwood and eventual champion Phil Mickelson all provided sensational moments. It was probably as good a Masters as we've ever seen, and whets the appetite for the next two majors at Pebble Beach and St. Andrews.
The start of the NBA playoffs signals the beginning of the best part of professional basketball. The post-season brings a level of intensity and passion not always evident in the regular season.
And while a huge number of fans are hoping for a Kobe-LeBron final, I suspect they're going to be disappointed again.
The plain truth is that the Orlando Magic has Cleveland's number. Orlando might just win the whole thing. They don't have a 20-point scorer, but they have the best balance in the league and have two key ingredients: a great distributor in Jameer Nelson and a dominant post player in Dwight Howard.
At the end of the playoffs, the MVP won't have to say he's going to Disneyworld, because he already lives there.
This might be the Rainbow Wahine softball team's best chance yet of going to Oklahoma City for the College World Series.
They have tremendous power, excellent pitching led by Stephanie Ricketts, and they just swept an eight-game road trip.
Having cracked the USA Today poll the previous week, how did they win every game on the road and then drop out? Talk about a lack of respect for the WAC.
There is an answer, though. Just keep winning and the rankings won't matter. Head coach Bob Coolen has his best team ever, and he's had some good ones.
If you get the chance to stop by and catch this team play, you'll be in for a treat. And, unbelievably, it's absolutely free!
And this one's for the NCAA:
Please let Brashton Satele and Laupepa Letuli know if they're being granted another year of eligibility.
It's unconscionable to keep them waiting until after the NFL draft. There is no reason to delay the decision, but this lack of consideration and efficiency has become a hallmark of the organization.
Most Recent Comment(s):