'Tis The Season To Can Coaches

By
.(JavaScript must be enabled to view this email address)
Friday - December 07, 2011
|
Share

Del.icio.us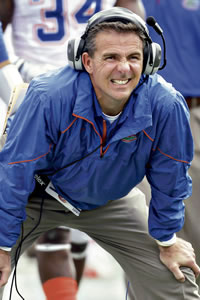 New Ohio State football coach Urban Meyer in his Florida days
The Jacksonville Jaguars became the first NFL team to make a coaching change this season Jack Del Rio, just the second coach the expansion Jaguars have had.
Looking back, his decision to release veteran starter David Garrard the week before the first game proved costly the Jaguars were 3-8 when Del Rio was let go.
There will be other coaches looking for work. Norm Turner is in trouble in San Diego, and Giants fans are screaming about Tom Coughlin, although that one seems silly.
The real movement is in college, where last week alone Ron Zook at Illinois, Turner Gill at Kansas, Rob Iannelo at Akron, Mike Sherman at Texas A&M, Dennis Erickson at Arizona State, Rick Neuheisel at UCLA and Paul Wulff at Washington State all received their walking papers, and there will be more to follow. (With the mid-season canning of Mike Leach at Arizona State, the Pac-12 will have at least four new head coaches next season.)
The rewards have never been higher for coaches, but those who fail to meet expectations are gone quickly. The UCLA job alone will likely offer triple the $1.25 million earned annually by Neuheusel. Penn State got so used to underpaying Joe Paterno that some at State College are balking at bringing the next Nittany Lion coach in at a competitive salary.
They didn't have that problem in Columbus, where Ohio State was only too happy to shell out $4 million per year plus incentives to grab former Utah and Florida coach Urban Meyer. The money and the expectations are both so huge that we will likely never see the kind of longevity enjoyed by Joe Pa or Bobby Bowden ever again.
NBA fans will receive a nice Christmas present in the form of a marquee tripleheader to start the 2011-12 season. It'll last 66 games, and when you think of it, that's plenty long. The players have agreed to give back $3 billion over the next 10 years. It's amazing how quickly the players came around once they started missing paychecks. The owners got a big win, but a few of them apparently believe they lost an opportunity to completely crush the union. All in all, $300 million per year is a pretty handsome giveback.
Now we'll see how long it takes Dwight Howard to be traded to the Lakers ... or maybe the Mavs.
Have you ever noticed that NCAA sports that are not big money-makers seem to play fast and loose with tournament assignments? For Pac-12 winner USC and Big 10 winner Nebraska to be in the same region of the NCAA volleyball tournament as Hawaii defies all reason. Because the schools are not affected in the wallet, seeding committees can get away with it. UH coach Dave Shoji probably has the right approach. "We don't spend any time worrying about it from here on. It's one match at a time."
Good attitude.
Most Recent Comment(s):