TV Mouths Skew Selections

By
.(JavaScript must be enabled to view this email address)
Friday - March 12, 2005
|
Share

Del.icio.us
My friend Tim Rodden swears that when he wins the lottery, the first thing he'll do is hire a guy to follow him around and say things like "Brilliant thought, Tim!" He'll laugh uproariously at the slightest joke, and spring to Tim's defense should anyone suggest any utterance or action falls short of greatness.
With Selection Sunday upon us, the power conferences don't need to hire a guy. They already have Dick Vitale, Mike Patrick and Jay Bilas to plump up the resumes. Last week, after Georgia Tech had been defeated by Wake Forest, Vitale and Patrick went into a rant about what a crime it would be if the mediocre Yellowjackets were left out of the NCAA tournament field.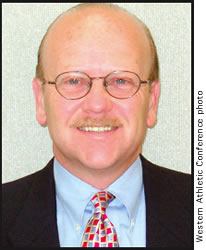 WAC commissioner Karl Benson
"How can you penalize a great team just because it has lost some games to other great teams?" whined Patrick. "It's not right!"
Right? Georgia Tech did not have a winning record in ACC conference play.
Let's examine the ACC. Sure North Carolina, Wake Forest and Duke are excellent teams. But would even the most ardent Tobacco Roader argue that Florida State, Clemson, Virginia and Miami are great teams?
If you play each of these teams twice in an unbalanced schedule, a "great" team should have eight wins in hand before it plays a single Top 50 team.
The network broadcasters'work schedules feature almost exclusively power conference teams. Consequently, there is a huge bias towards those teams.
It is all too easy to forget that a critical element in the NCAA tournament's popular appeal is that David can slay Goliath. The most exciting moments in any tournament come when the Coppin States or the Valparaisos of the world are prone at midcourt, openly weeping at having defeated one of the basketball demigods.
Do the network's simpering sycophants affect decisions of the selection committee? Not according to WAC commissioner Karl Benson. "We consider the records and schedules of the teams, but never in terms of the conference they're from," said Benson. "It doesn't even come up."
Theoretically, it should be of no advantage to the WAC that Benson is on the committee; he has to leave the room when a WAC team is being discussed. And if you think that's true, then I've got a bridge to sell you. Since Benson has been on the committee, the WAC has gotten two teams into the field each year because the people left in the room know that at some point Benson will be back in the room, and they will have to leave.
Here's to hoping we don't see big conference teams with losing records. It's ever so much more entertaining to root for a Davidson or St. Mary's or Robert Morris.
Truly, the madness of March.
Most Recent Comment(s):
Commenting is not available in this weblog entry.