UH football players to watch this season

By
.(JavaScript must be enabled to view this email address)
Friday - August 17, 2007
|
Share

Del.icio.us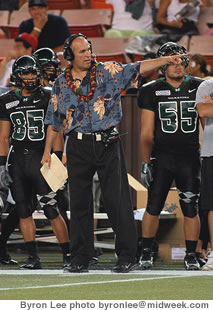 June Jones
The University of Hawaii football team is nearing the end of its fall camp, and with the start of school will practice from 7 to 9 a.m. The long practices of early August allow for the new and lightly experienced returning players to make their case to be prime timers beginning with the opening game versus Northern Colorado Sept. 1.
A few players to watch for early in the 2007 season:
Kealoha Pilares: The Air Force transfer will dazzle Aloha Stadium crowds with his graceful running style. He understands the requirements of the running back in the run-and-shoot offense, can block and is adept at breaking tackles.
Leon Wright-Jackson: Still has a learning curve at RB, but has the burst that made him a 2004 Parade All American. He's shown some nifty cutback moves, and his playing time will be proportional to his increasing grasp of the system. I'll be surprised if he doesn't break something long in the early going.
Keoni Steinhoff: Played well in limited appearances last year, and may prove as good at the tackle position as either Tala Esera or Dane Uperesa. Many fans are worried with three starters from last year's offensive line moving on to the NFL. Steinhoff should help allay these fears.
C.J.Hawthorne: The former corner turned wide receiver looks like he's been there before. Of course, he's been a pass catcher all his life until last season. He has tremendous quickness and seems able to separate from defenders quite easily. He may benefit from being the least-known of the receivers; opponents could tend to overlook him.
Malcolm Lane: The sophomore receiver was extremely raw last year, but looks much more polished.He's got some size to go with his outstanding speed, and has made some incredible grabs in practice.
Karl Nopa: He has moved back to DE, which will allow him to use his quickness to rush opposing quarterbacks. He seems to be one of the players who will benefit most from the defense shifting to the 4-3.
Blaze Soares: Fans enjoyed his ferocious play on a limited basis last year. This time around the former Castle High star will see most of the snaps at outside LB. He is quick, aggressive and has the mean streak you want in a backer. His ability to wreak havoc with big plays cries out for a nickname. Suggestions?
One facet of the June Jones philosophy emphasizes full-speed practice but very little full contact. The coach was way ahead of his time on this, and more and more coaches are following suit, not wanting to risk needless injuries in practice situation. It's one feature that Jones had in common with the late Bill Walsh, whose style of practice revolutionized the NFL.
Most Recent Comment(s):