UH spring football and other notes

By
.(JavaScript must be enabled to view this email address)
Friday - April 27, 2007
|
Share

Del.icio.us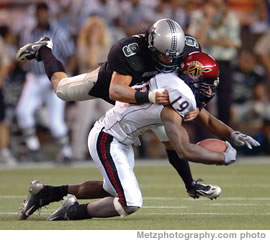 Good things come in small packages at UH: Senior
Warrior Ryan Keomaka
Some of the good news out of the University of Hawaii spring practice revolves around the defense. Under once and current coordinator Greg McMackin, the Warriors are playing with speed and intensity.
One player who embodies those virtues is senior corner Ryan Keomaka. The Roosevelt product is proof that good things can come in small packages. At 5 feet 10 inches and 173 pounds, Keomaka doesn't have a lot of heft, but has plenty of "want-to." He also has a nose for the football, evidenced by a pair of interceptions returned for touchdowns last season.
"When the ball goes up, I feel like it's mine," says Keomaka."You just gotta go up and get it."
And he's not afraid to set goals for himself or his team.
"I want us to win the WAC and go to a BCS game," says Keomaka. "Personally, I want to start every game,and get a pick in every game."
McMackin has taken notice of the senior with the flowing locks. "Ryan's done a great job," he says. "We've really got three starting corners in my mind, along with Myron (Newberry) and Gerard (Lewis). He's not afraid to make a play."
With much ado made of Don Imus' remarks about the Rutgers women's basketball team, a commentator on National Public Radio proved that humor is still alive. On Saturday morn-ing's Wait, Wait Don't Tell Me, host Peter Sagal brought up Don Ho's legacy, not just as an entertainer, but as the patriarch of a family of 10 children, 19 grandchildren, 15 great-grandchildren and two great-great-grandchildren. Sagal commented "Them's some nappy bottomed Hos."
Nobody is talking about it much, but the fallout from the Duke lacrosse scandal includes some innocent victims. The three players are forever besmirched - David Evans graduated, but Reade Seligman is enrolled at Yale, and Colin Finnerty is attending Hofstra. But maybe the most damaged is former coach Mike Pressler, who lost his job and is now at Division II Bryant College. And still, no apology from Duke president Richard Broadhead. That's just wrong.
We enjoyed an extended conversation with former Warrior Ikaika Alama-Francis earlier this week. He's expected to be a first-day draft pick, and is starting to feel the pressure.
"The last three months have been so incredible,"says Alama-Francis. "I'm definitely ready to end this process."
So what does he plan to do on draft day? Big party? Spend the day on a couch with television cameras looking on?
Hardly. Ikaika plans to spend the day fishing. "I'll keep my cell with me," he says. "I have no idea who might take me."
The more I talk to NFL people, the more I'm convinced that both Ikaika and Samson Satele will go somewhere in the first three rounds. But you know that the misinformation campaigns conducted by the teams make it very difficult to read what any particular team may do.
Most Recent Comment(s):