UH Travel Costs Will Balance Out

By
.(JavaScript must be enabled to view this email address)
Friday - December 22, 2010
|
Share

Del.icio.us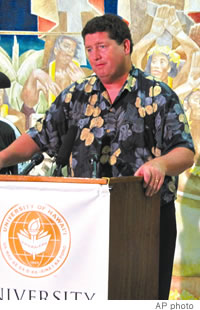 UH athletics director Jim Donovan
The UH Athletic Department's transition from the Western Athletic Conference to the Mountain West for football and the Big West for other sports will not be without its costs - but staying in the WAC would-n't have been cheap either.
UH had done very well with its local television package, averaging about $2.5 million per year. Even if this goes away entirely because of the MWC deal with national television partners, the loss will be much lower, as the package was going to be worth much less - probably half of its current value.
That's because ESPN informed UH that it would be picking up far more UH games in the absence of Boise State, Fresno State and Nevada.
It might take as many as six games because there were few other attractive options among remaining WAC teams.
Additionally, UH's share of conference TV money was going to dip from $450,000 to about $100,000 because of a renegotiation with ESPN.
Many people were alarmed by the figure of $150,000 to $175,000 per visiting MWC football team as a travel subsidy or "cost-sharing" in the current vernacular. They quite rightly surmised that the figure represented far more than the price of commercial travel. But MWC athletic directors were getting resistance from their football coaches on the Hawaii admission, and felt they needed charter flights to sell UH as a member. The quoted figure will cover the cost of chartering the smaller jets, such as the 737.
If the MWC schools wish to fly larger planes, they can sell seats to boosters to cover the additional costs.
Final details of the cost-sharing expenses with the Big West are still being finalized, but it looks like UH will contribute $500 per visiting player, almost exactly the average cost of a round-trip commercial flight from California to Hawaii.
That cost will be partially offset by UH's own travel costs, which will be less since they won't have to pay for the longer flights to distant WAC outposts.
Coupled with the money UH will receive as its conference share, the total cost increase is likely to be around $300,000 per year to make the jump. Selling an additional 10,000 seats over the course of the football season should handily cover that.
All in all, a relative bargain, and as UH athletic director Jim Donovan says, "It's a decision that the university couldn't afford not to make."
* Sheraton Hawaii Bowl fans are going to be treated to the big-play proclivities of Tulsa quarterback G.J. Kinne. The University of Texas transfer has a gunslinger mentality, according to UH defensive coordinator Dave Aranda.
"The coaches I've talked to compare him with Brett Favre in terms of style," says Aranda. "When he escapes the pocket he keeps his eyes downfield, and he's got as strong an arm as we've seen this year. He specializes in big plays."
The two teams combine for an average of nearly 80 points and 1,000 yards. The odds-makers expect a shootout as well. The under-over is currently at 73, second-highest of any bowl game, trailing only the national championship game between Oregon and Auburn, which is 74.
With 35,000 tickets distributed as of Dec. 15, it is reasonable to expect a game-day crowd north of 40,000.
Most Recent Comment(s):