UH's O-Line Key To USC Game

By
.(JavaScript must be enabled to view this email address)
Friday - September 01, 2010
|
Share

Del.icio.us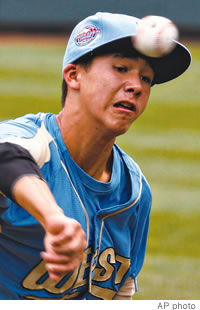 Noah Shackles pitched Waipio to victory over Georgia Aug. 26
There is so much uncertainty regarding the future of University of Hawaii athletics that you begin to think there is nothing about which you can be absolutely certain.
Here is one sure thing, something you can take to the bank, an honest to goodness mortal cinch: Traffic to the stadium on Thursday afternoon will be a nightmare. The weekday school jam, 5 p.m. kickoff and a marquee opponent guarantee the perfect storm of near gridlock.
Past that, there are way more questions than answers. Shortly after starters were decided for the offensive line, center Brett Leonard goes down with a knee injury. Hearing head coach Greg McMackin anoint USC's D-Line as the best Hawaii has faced since Georgia in the 2007 Sugar Bowl is enough to give one a Percy Harvin-sized migraine. That increases the threat to Hawaii's offense to level orange. Expect longer delays at all transportation hubs, especially on routes to outside receivers. It always seems to go that if you have a vulnerable area, that will be the one hit with injuries. The Warriors must stay healthy on the offensive front.
UH is now a 22-point underdog. By the time you read this, the number could go up.
But here's the deal. If UH gives Bryant Moniz time to throw, this will be fun to watch. If USC resembles Georgia up front, it could get out of hand. But before this season is done, Hawaii will have a good football team.
You only have to watch the Little League World Series to see how the coaching model has changed in the last 30 years. If you're of a certain age, you can remember coaches yelling and criticizing, occasionally leaving some young players in tears. According to Gary Pacarro, Hawaii partner development associate for the Positive
Coaching Alliance, there is a method to getting coaches and parents aboard.
"You have to change the culture," says Pacarro. "For example, you use the criticism sandwich, which puts a critique between two positive statements, like in baseball, 'great footwork getting to the ball. Next time try to make sure the glove is to the ground. That's great hustle.' It makes the players feel good."
I guess when I played for Pat's Cleaners, Coach Yulico missed the memo. "Son, do you have two left feet? Take these shoes off and let me see," Mr. Yulico would say. "I don't know how you walk home from school on those. Have your mother take you to the doctor. Boy, that's awful."
They wouldn't let Mr. Yulico be around kids anymore, and that's a good thing.
But change has to come to some parents, too. "Some of them are in the PGA- that's the post game analysts," Pacarro says. "They can make the ride home miserable."
Watching the World Series, I'm hearing lots of positive reinforcement. Even the Canadian team, losing to Taipei 23-0, was able to gleefully celebrate a late defensive gem. And that's the way it should be.
Most Recent Comment(s):