UH's TV Deal-maker

By
.(JavaScript must be enabled to view this email address)
Friday - June 18, 2005
|
Share

Del.icio.us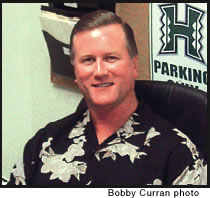 John McNamara
There's always someone behind the scenes. And when you look at the recently concluded negotiations for the television rights for University of Hawaii sports, that person is John McNamara, associate athletic director for external affairs.
McNamara is responsible for corporate sales, marketing, promotions, sports information, radio, television, licensing and merchandising. And like many of us, his career is not necessarily the one he envisioned when he enrolled at the University of Toledo.
"I was a journalism major when I started school," says McNamara. "I'd been the sports editor of the school newspaper in high school, so that seemed the way to go."
McNamara was born and raised in Toledo, one of 10 children. He lived with his four brothers and five sisters in a small three-bedroom house in a working class neighborhood. His father worked as an auditor for General Motors and his mother was a homemaker. The five boys shared one 10-by-15 bedroom.
"We were poor," says McNamara. "Our room had two sets of bunks, and you had to go between them sideways. There was a mattress that pulled out from under one of the bunk beds. If you went to the bathroom during the night, you had to be careful you didn't step on someone's face.
"But you learned to compromise and function as part of a group. And you learned humility — you couldn't take yourself too seriously."
As a freshman at Toledo, McNamara answered an ad for a job in media relations: "The sports information director was a crusty guy who had been there for eons. During my interview he said, 'I've already fired seven of you.'"
But McNamara thrived, and after graduation was hired as a full-time assistant. Four years later, his mentor retired and McNamara applied for the position — and at 25, became the youngest SID at any Division 1 school.
After three years, McNamara caught the eye of then MAC commissioner Karl Benson, who lured him away to the conference office as an assistant commissioner. "You could see right away that John knew that an SID was about more than press releases," says Benson, now the WAC commissioner. "He had a knack for cultivating the media and promoting his school." McNamara began to learn the marketing side under Benson, and followed him to the WAC, where he was made an associate.
Four years in Denver, and McNamara was then lured to Chicago to work for Conference USA, where he was charged with building a conference television network from scratch. That gave him the experience with national entities like ESPN and a close look at the local package at each school. It was during this period that he met Herman Frazier, who had become the AD at Alabama-Birmingham.
"I had known John by reputation, and we developed a rapport; I knew he'd done good work with TV and with some corporate partners," says Frazier. "Those were important points when I came to Hawaii." McNamara was happy at CUSA, but always felt he'd like to get back to a campus. When he was contacted by Frazier about the UH position, it seemed a perfect fit.
"I had a huge respect and admiration for Herman, and I had been to Hawaii a number of times when I was with the WAC," says McNamara. "I loved Hawaii, thought it had enormous potential, and I felt Herman would be great to work for. It had to be both things, the institution and the person, and it was right on both counts."
More than a year into his Hawaii sojourn, McNamara couldn't be happier. Strategies have been implemented for marketing, promotions were born and are being expanded, licensing and merchandising efforts are bearing fruit, and radio and TV contracts have been set.
"I'm thrilled with what we've done in this first year, " says McNamara. "Corporate partnerships have reached $2 million, and TV and radio will produce another $2 million. And we can do so much more."
"John is the consummate professional," says Frazier. "We'll get him into the individual sports and that will be the final piece of his puzzle. Somebody is going to want him as their athletics director."
High praise for a man who was once the kid on the bottom. bunk on the left.
Most Recent Comment(s):
Commenting is not available in this weblog entry.