Venezuela's Big Gift To Hawaii

By
.(JavaScript must be enabled to view this email address)
Friday - April 14, 2006
|
Share

Del.icio.us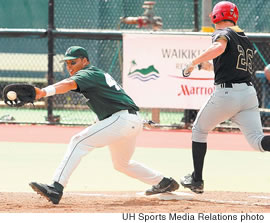 Louis Avila's stretch and catch gave UH an out on
this play
Take a glance around the infield at Les Murakami Stadium on game night and you'll be drawn to first base, where big No. 40 holds court. He just looks like a big-time first baseman. At 6-feet-2-inches and 230 pounds, Luis Avila has major league size and an all-star's passion for the game.
A native of Caracas, Venezuela, Avila began to play early in a place where baseball is king.
"I was about 5 when I started," says the soft-spoken Avila. "Major leaguers from Venezuela are national heroes. Everyone knows Andres Gallaraga and Omar Vizquel, and wants to be like them."
Like many young players, Avila played many different positions until he was about 16.
"That's when I started to get pretty big, and it was always first base after that," he says.
It's a long way from Caracas to Honolulu, and Avila's arrival at the University of Hawaii required a little serendipity. While walking along a Caracas boulevard, Avila ran into a former youth baseball teammate who was playing at a small college in Oklahoma. A couple of phone calls put Avila in touch with the man who had recruited his friend, and he was offered a chance to work out in Miami and be evaluated.
Scouts liked what they saw, and he was rated a Division 1 prospect. But Avila's rudimentary English skills were an obstacle to passing the ACT, a requirement to play at an NCAA institution.
"I wasn't sure what I was going to do," says Avila. "Then I got a call from Eastern Oklahoma State, a junior college, and they offered me a scholarship."
He went off to the Midwest, where culture shock awaited.
"It was about as different from home as I could imagine," says Avila.
It helped that there were three other Latino players on the team.
Once on the field, though, the game was very much the same. Avila played his way to honorable mention All-America as well as all-conference and all-region honors. In the summer, Avila was invited to play for the Hawaii Island Movers, and as soon as he arrived he knew he'd found a place to love.
"It was beautiful here, and the people were so nice," says Avila. "Even the food was more like home, with the rice and the sushi."
The Hawaii coaches took notice, and though recruiters came calling from Texas, Oklahoma State, Alabama and Oral Roberts, Avila decided to enroll at UH. His first year in Honolulu was a trying one, although it had its moments. He ended up hitting .227 in 2005, with 14 RBI, 14 runs and seven doubles. With this senior season
looming, Avila went to work.
"I started focusing on strength and conditioning," says Avila. "I got serious about it."
Associate head coach Chad Konishi noted the result.
"Luis has gotten much better at hitting to the center of the field rather than pulling everything," says Konishi. "His recognition of breaking pitchers is much better. Meij (hitting coach Keith Komeiji) has done a great job with him."
Avila's statistics tell the story. Through 30 games, he is hitting .316 with 11 doubles, four home runs and 31 RBI's.
Avila would love to continue in baseball if the opportunity arises.
"If I get a chance, great," he says. "If not, I'll get my degree in travel industry management and try to stay in Hawaii."
But that's for later.
"For now, I'm enjoying helping this team win."
Most Recent Comment(s):