Vick And Trouble Linked Again

By
.(JavaScript must be enabled to view this email address)
Friday - July 07, 2010
|
Share

Del.icio.us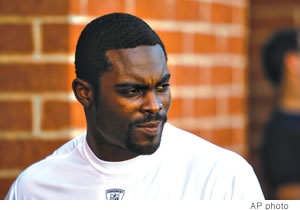 You could almost see NFL commissioner Roger Goodell scratching his head when the latest troubling news regarding Michael Vick came in. The Eagles back-up quarterback was celebrating his 30th birthday in a Virginia Beach bar-restaurant - which resulted in a shooting. His lawyer said he was with friends and his fiancée, and that Vick was long gone from the club when gunfire broke out.
Surveillance tapes show his departure was more like three minutes before the action. And that the man who was shot had slapped birthday cake away from Vick's fiancée and then exchanged angry words with Vick. The troubled QB left the premises shortly after 2 a.m.
Defenders of Vick are predictably going to talk about his right to a social life, point out that he was gone when the shots rang out and hold him blameless.
I would suggest that Vick really doesn't get it. He's on a short leash with Goodell, and there are a few key words that spell trouble. Entourage, alcohol, late nights - and did I mention Glock 9s? I don't know about you, but automatic handguns are not part of the birthday celebrations I attend. Vick seemed sincere when he professed to see the light after his prison term and suspension for dog fighting, but he clearly lacks good judgment.
He is due to make $5 million with the Eagles this year - if he makes the team. Vick may escape career-ending consequences this time, but this could be his last opportunity to keep a lucrative position in the NFL.
* A couple of NFL teams have made major changes in an attempt to improve their fortunes in 2010. The Washington Redskins moved to solve their QB problem by acquiring Donovan McNabb from Philly. New D.C. head coach Mike Shanahan wanted a veteran leader with a proven ability to perform against NFL defenses. McNabb brings that, but he has rarely been consistent for an entire season. Now that he's north of 33, his durability becomes more of a concern. McNabb has been a good teammate, something the Redskins hope will rub off on unhappy and expensive defensive tackle Albert Haynesworth.
More curious might be the Miami Dolphins pickup of former Bronco Brandon Marshall. An extremely talented wide receiver, Marshall was perennially unhappy in Denver, and often put his personal issues above the team's welfare. And that is something that Dolphins general manager Bill Parcells and his head coach Tony Sparano usually find unacceptable. Parcells has not dealt well with prima donnas, and many NFL types thought Parcells had taken on a player likely to cause headaches. What, for example, will happen the first time Miami's run-first offense throws only three or four balls in his direction? It's a situation that bears watching.
Most Recent Comment(s):