Wade: All Volleyball, All The Time

By
.(JavaScript must be enabled to view this email address)
Friday - April 09, 2005
|
Share

Del.icio.us
Look under "Jobs" in the classified section and imagine this description: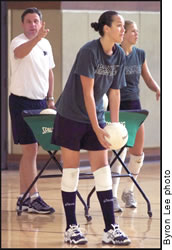 Charlie Wade works with Victoria
Price and Juliana Sanders
Mature self-starter for position that includes long hours, low pay, huge responsibility, frequent travel away from home. Must have advanced sales skills, be expert at time management, and be knowledgeable about academic requirements of school and NCAA. Must be on call 24/7 for duration of employment.
Sound like a dream job?
That's precisely the position that Rainbow Wahine associate coach Charlie Wade accepted 10 seasons ago, and no one has been able to convince him to give it up.
The great passion for volleyball arrived relatively late in life. After living in Indiana through high school, Wade moved with his father to Southern California and began playing on asphalt courts, volleyball's version of street ball. He became good enough to play at Long Beach City College. While dating a former volleyball player who was coaching JV volleyball at St. Joseph's High School in Lakewood, he served as her assistant. When she moved on, Wade took over as JV coach and varsity assistant. One of the varsity players at St. Joe's was Tee Williams, who was destined for stardom at UH.
At about this time, Wade began coaching at Ichiban Volleyball Club. After two years, he approached Russell Athletics about a sponsorship deal. But officials at Ichiban resisted the idea of a commercial endorsement, so Wade created his own club, making Russell a title sponsor, and the Russell Magnum V.C. was born in 1986. "We started with four teams," says Wade, "but soon we grew to 25 teams with over 300 players."
Among them were future Rainbow Wahine standouts Kee Williams, Krystal Atwood and Sarah Chase.
Then in 1993, he opened the Southern California Volleyball Institute, complete with training center, camps and pro shop. SCVI became all volleyball all the time.
"It was a veritable volleyball factory," says Wade. "Really, it was volleyball central."
Rainbow Wahine head coach Dave Shoji had successfully recruited a number of Wade's players, so the two were well acquainted. When a job opened in 1995, Shoji made the offer and Wade moved to paradise.
It is a marriage that has worked well.
"I'm fortunate that Dave allows me to participate in things that affect winning," says Wade, "like recruiting, training, practice, match prep and scouting."
And Shoji appreciates Wade's effort.
"Since Charlie came, he has raised the bar with our training and our overall level of performance," says Shoji. "And he's been able to identify recruitable players, and to close the deal on many of our current players as well as a large number over the last 10 years."
Wade has been approached frequently about head coaching vacancies. He was a finalist for the Arizona State and Washington jobs, and recently turned down the Fresno State position, which would have more than doubled his pay.
"It would have to be comfortable for my family," says Wade, referring to wife Tani and infant son Makana. "And it would have to be the right conference, budget, reputation — all the things that give you a chance at national success." Ask him about his dream job, and the answer comes faster than a service ace.
"It's right here," Wade enthuses. "There is no place like Hawaii. Someday when Dave retires, this would be the ultimate job."
Arrive early for a Wahine match and Wade conducts the pre-game drills himself. He is intense, barking out an adjustment or word of encouragement, and it's contagious.
As Coach Shoji puts it, "He gets players to rise to game level intensity before the first serve."
As our interview comes to an end, Wade is reaching for the phone.
"There's an unbelievable kid still unsigned for next year. She's from Huntsville, Ala., and she touches 10-foot-4," enthuses Wade. "And we're close, real close."
For Charlie Wade, it's all volleyball all the time.
Most Recent Comment(s):
Commenting is not available in this weblog entry.