Waiting For Sensley To Step Up

By
.(JavaScript must be enabled to view this email address)
Friday - November 04, 2005
|
Share

Del.icio.us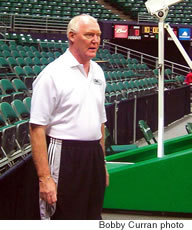 Coach Wallace's new team mixes
veterans with talented newcomers
Basketball fans, rejoice! The season is nearly upon us, and for followers of the University of Hawaii Rainbow Warriors it will begin with a bang. After an exhibition against UH-Hilo, the Rainbow Warriors will open with No. 5 Michigan State on Nov. 19. That will be an afternoon game with a 1 p.m. tip-off, and it's a game in which Hawaii could be around at the end.
The Rainbow Warriors had a winning record last year, finishing 16-13, but lost a bunch of close games in the final minutes. Poor point guard play and a lack of physicality were most often the culprits, and the Rainbow Warriors directed their recruiting to correct these deficiencies.
At the top end, they've exceeded expectations. Ahmet Gueye, a 6-foot-8-inch power forward from Senegal via Salt Lake Community College has been described as Tony Akpan with skills.
"He's physical," says veteran head coach Riley Wallace. "He starts slow but really picks it up, and he understands the intensity level you need in D-1."
Perhaps the biggest surprise has been JC transfer Matt Lojeski. A Wisconsin native, Lojeski has shown an ability to score, both shooting and slashing, and is tough on the boards while taking care of the basketball.
"He can play the three or the two," says Wallace. "We've got to find a place for him. He's too good to sit. He plays bigger than 6-foot-5."
Three point guards were recruited: John Wilder, plus a pair of freshmen, 6-foot-1-inch Dominic Waters from Portland and 6-foot-4-inch Hiram Thompson from California. In the early going, Thompson may be catching on the quickest, but it's a job that could end up in the hands of an improved veteran.
"Deonte Tatum has really shown us something," Wallace says. "He worked very hard all summer, came in with a great attitude and is proving to be a real leader. That's been a very pleasant development."
The other returning veterans have also worked hard on their games. "Little Matt" Gibson, last year's leading scorer at 13 points per game, has increased his strength. "Big Matt" Gipson is shooting well. Bobby Nash has become the best standing jump shooter on the team. Chris Botez has put on some weight. And Julian Sensley is, well, Julian.
"In some ways it comes down to Julian," says Wallace. "We'll be good, but if we're going to be better than that, Julian has to step up. He's been great so far in practice, but he still has occasional lapses. Bob Burke, our assistant who left for the Trail Blazers, says there are guys on that team who don't have Julian's skills. He needs to focus, and he can have a great future."
This could be an outstanding Hawaii team. They'll be explosive, athletic and physical, and they'll need to be as it's the most challenging UH schedule in a while, with Michigan State, St. Louis, Wisconsin, Milwaukee, Penn and a home-and-home with UNLV in non-conference.
Riley Wallace begins his 19th season, and at a recent practice it was vintage Wallace - pacing, shouting, exhorting and, on occasion, chewing serious butt.
"They tell me I've mellowed," says Wallace. "If I have, it isn't by much."
Wallace is hopeful of a sellout for MSU, Hawaii's highest rated opponent since No. 2 Kansas in the 1998 Rainbow Classic.
Most Recent Comment(s):