Warriors, Pilares survive 'Black Saturday'

By
.(JavaScript must be enabled to view this email address)
Friday - October 05, 2007
|
Share

Del.icio.us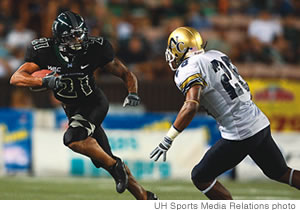 Damien grad Kealoha Pilares averaged 8.5 yards per carry at Idaho
Last Saturday shall be known as Black Saturday. Seven of the Top 15 teams in college football fell, all but one to lesser-rated opponents.
It began on Thursday with South Florida dropping No. 5 West Virginia. On Saturday, Colorado beat No. 3 Oklahoma, Auburn dumped No. 4 Florida, Maryland knocked off No. 10 Rutgers, Kansas State went on the road and demolished No. 7 Texas, No. 6 Cal-Berkeley nipped No. 11 Oregon, and Georgia Tech went to Death Valley and beat No. 13 Clemson.
For good measure, Illinois licked No. 21 Penn State, and Florida State whacked No. 22 Alabama.
So much for the established order.Who'd have believed that after week five, we'd see California at No. 3 and South Florida at No. 6?
* For all the Hawaii fans who worry that the Warriors could go undefeated and not get to a BCS Bowl, fear not. Last year, Boise State was No. 23 at this time and got to No. 8, making the Fiesta Bowl with ease. If the Warriors keep winning, they'll get there too.
The Warriors have six straight road wins now with two Friday games looming at San Jose State and Nevada.
* It looks like the answer to the Nate Ilaoa/Reagan Mauia replacement problem is becoming Kealoha Pilares.The red shirt freshman from Damien is about as smooth as you'll see. He's a glider with excellent vision and a quick first step. Against Idaho he had 85 yards in 10 carries - 8.5 yards per, that'll work. Expect the three-back rotation to continue, with David Farmer and Leon Wright-Jackson sharing the workload.
* If you're rooting for the San Diego Chargers, you've got to be missing Marty Schottenheimer, who only went 14-2 last year in the regular season. That stacks up pretty well with the 1-3 slate posted by Nervous Norv Turner, who hasn't been great in his previous head coaching stops. What would your prefer, a coach who can't win in the playoffs or a coach who can't get there?
* The surprise team in the NFL so far might be the Green Bay Packers, who haven't had a defense this good since Vince Lombardi coached there. An obviously rejuvenated Brett Favre has cut down on bad decisions and interceptions.
* The Dallas Cowboys look like they could compete for the NFC title. Jerry Jones should lock in Tony Romo right now.
* Could be that we see a couple of Hawaii guys in the World Series. Bronson Sardinha has made the Yankees post-season roster, and Shane Victorino has been a key ingredient for the Phillies all year long. Best of luck to both of them.
Most Recent Comment(s):