Warriors, the draft and Colt's selection

By
.(JavaScript must be enabled to view this email address)
Friday - May 02, 2008
|
Share

Del.icio.us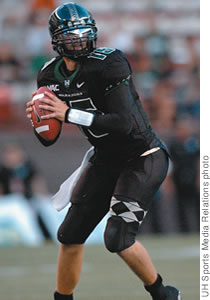 Colt Brennan: headed for D.C.
In the aftermath of the recently completed NFL draft, many disappointed Hawaii fans are offering up theories as to why none of Hawaii's receivers was selected in the seven rounds.
One common theory promulgated by a witless analyst is that the Warrior strength of schedule hampered the prospects of Davone Bess, Ryan Grice-Mullins and Jason Rivers. Tough, then, to explain how Marcus Smith of New Mexico, Jerome Simpson of Coastal Carolina, Aman Shields of Richmond, Dexter Jackson of Appalachian State and, here's the capper, Pierre Garcon of Mount Union all were drafted.
The other argument heard frequently is that teams are wary of players that come out of Hawaii's system. How quickly they forget that Ashley Lelie was a first-round pick.
The simple truth is that the NFL didn't think these players were good enough to be drafted. Period. We may disagree with that assessment, but there you have it.
Colt Brennan's selection in the sixth round by the Washington Redskins may turn out to be as good a situation as he could have hoped for, except for the money. Last Sunday wasn't easy for him.
"It got pretty frustrating seeing these other quarterbacks picked ahead of me," says Brennan. "But after I got the call and a guy's asking me if I'd move to Washington (D.C.), I said if you're serious, I'm there." While staying at UH turned out to be expensive - an early to middle second round pick, which was where Brennan would likely have been picked last year, is worth $1.8 million to $2 million in guaranteed money - his slot this year will bring right around $100,000.
But that's the bad news. On the plus side, Washington is expecting to put a couple of years into developing Brennan. He can learn the system and NFL defenses without the pressure of first-year expectations. By the time Brennan is ready to play, some of the nine QB's picked before him will be out of the league.
The Warrior Bowl last Saturday was an exceptionally fan-friendly event. Totally free, lots of games for the kids, well-laid-out autograph tables, posters and programs available, and a running time game that lasted about an hour and a half. We didn't get to see much of the defensive starters, as coaches wanted to evaluate some of the younger players, but there was good hitting and high spirits. And on offense, it looks like the battle at QB is very close. In fact, Inoke Funaki might have had the better of it, as Tyler Graunke threw an interception. Still too close to call, though.
Very quietly, the Rainbow Warrior basketball program has just signed its most gifted prospect at least since AC Carter and maybe since Tom Henderson. The arrival of Roderick Flemings from Weatherford J.C. caps off a terrific recruiting season by Bob Nash and his staff. A total of six players have signed with Hawaii, and the future looks promising. You can become a part of it as UH is accepting deposits for new season tickets right now. Go to www.hawaiiathletics.com for details or drop by in person at the Stan Sheriff Center box office.
Most Recent Comment(s):