Where They Stop, Nobody Knows

By
.(JavaScript must be enabled to view this email address)
Friday - June 16, 2010
|
Share

Del.icio.us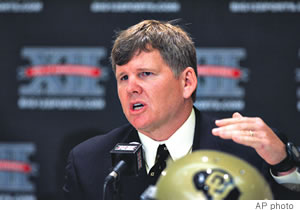 Coach Dan Hawkins and Colorado are moving to the Pac-10
It may not be as sure a thing as death and taxes, but it's coming. And sooner rather than later.
We're talking a titanic shift in the landscape of college athletics. For those who have grown up with geographical certainties related to conferences, it may take some getting used to. If you think Midwest when the Big Ten is the subject, it may soon not apply. Heck, already it's not even 10. If Pac-10 makes you think West Coast, that too may change.
There's not a lot of rahrah left. Today the buzzword is revenue. And nobody is sure exactly what the conferences will look like when the music stops.
A couple of things are clear. The Big 12 and the Big East may be in serious trouble, and the only entities that will definitely emerge stronger appear to be the Big Ten, SEC and the Pac-10. The problem for the Big 12 started years ago when it was decided not to divide monies equally. The result has been that superstar Texas is getting more than everybody else. Nebraska and Colorado departed last week to the Big Ten and the Pac 10, respectively.
With word that the Pac-10 will invite Texas, Texas A&M, Texas Tech, Oklahoma and Oklahoma State to join Colorado in forming the East division in a 16-team conference, it's up in the air if the Big 12 will survive in any form.
The big loser: Kansas and its vaunted basketball program.
* The WAC has been passive and doesn't have much choice.
UH is in a vulnerable position, but needs to be ready to seize an opportunity if one arises. You have to hope that the WAC is talking to some of the Mountain West schools in case that conference is raided. It would be almost perfect if the WAC lost Boise State and LA Tech and replaces them with UNLV and San Diego State.
And as far as UH is concerned, the two biggest objections to Hawaii membership in other conferences are travel time and total expense. In regard to travel time, education will solve most of that problem. If you and I both start in Los Angeles or San Francisco, and I'm going to Honolulu and you're going to Lubbock, Texas, or Pullman, Wash., I'll get there faster every time. There are direct flights to Honolulu. Try getting one from L.A. to Pullman or to Lubbock or many other places. Travel time is a shibai and is easily overcome.
Travel expense is another matter. I hope the powers that be at UH are looking at travel subsidies and examining potential partnerships and doing cost analyses. That may become necessary to consider and if change happens quickly, there won't be a lot of time for beginning these conversations then. The time for contingency planning is now, because it's hard to imagine Hawaii fans getting jacked up to spend a lot of money to watch the Warriors play Sacramento State at Aloha Stadium.
* One way you know the Rainbow Wahine have hit the big time is head coach Bob Coolen will have his first Call the Coach show - this Tuesday at 6 p.m. at the Kani Ka Pila Grill at the Outrigger Reef. Come on down and visit with Coolen the Gang.
Most Recent Comment(s):