Why can't we watch TV sports on airplanes?

By
.(JavaScript must be enabled to view this email address)
Friday - January 16, 2009
|
Share

Del.icio.us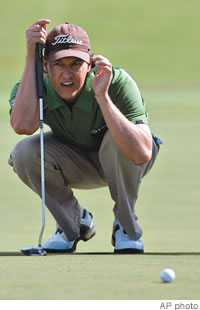 Parker McLachlin, here lining up a putt at the Mercedes, is playing well coming into the Sony
Oh, the modern world. A civilization that can put men on the moon, build nuclear reactors, create cities in deserts, split the atom and transplant human organs. How, then, is it so impossible to get live sports on airplanes?
It was torturous to be on a homebound flight last Sunday and be deprived of the NFL playoffs. You'd think that the geniuses at Nickelanddimeme Airways would jump on what would surely be another revenues stream. After all, these are the people who are charging you for luggage, food and anything else they can think of. For those who have to fly during sporting events, a pay per view option would be a popular choice. I can't imagine that it's technically impossible.
* Golf fans everywhere got their first taste of 2009 with Geoff Ogilvy's victory at the Mercedes Championship on Maui. Oahu native Parker McLachlin finished in a tie for 24th - not bad considering he played the first 14 holes at 6 over before settling down and tearing through the final 58 holes in 12 under par. McLachlin is, of course, entered in the Sony Open this week at Waialae Country Club, along with Kaneohe's Dean Wilson.
* The big question on the PGA tour right now is when will Tiger Woods return to competition. The difference between having him play or not is huge in every way - television audiences, live galleries, media buzz and general interest in golf are tremendously impacted.
Most of the golf experts and Tigerphiles seem certain he'll try to play a couple of tune-ups prior to the Masters in April, and which ones he'd choose are the hot topics. For a swing that generates as much torque as Tiger's, the knee will have to be pretty far down the road to complete recovery for Woods to play.
And for those who have followed Tiger over the course of his career, you can be sure of this: He's not going to tee it up until he's sure that he can play well enough to win.
* The Rainbow Warrior basketball team is home from its first conference road trip - and it's one of the worst, in terms of travel. The team was listless after a cramped 16-hour journey to Moscow and lost to Idaho 67-47. After another long travel day, they practiced well last Friday and played Boise State to the wire before falling 54-49.
Both games had to be played without a point guard as Hiram Thompson is out after injuring his other hamstring. The team continues to play hard - they're a couple of pieces short of being where they want to be.
Keep in mind that there is not a single senior on this team. If they can acquire some back-court help, and one more banger inside, this group could be pretty special next year.
To Bob Nash's credit, he is very focused on winning this year. This would sound like a small thing, but Nash showed he's smart and flexible on the road trip.
After the long travel day last Friday, he took his team to a short, spirited practice Friday night and then cancelled their game-day practice on Saturday, instead allowing his tired players to save their legs for the game. That allowed Hawaii to mount a strong run late that very nearly enabled them to pull off the upset.
It was the kind of creative thinking that marks good coaching.
San Jose State is up Saturday night at Stan Sheriff Center. Check Hawaiiathletics.com for special promotions and discounts for the game.
Most Recent Comment(s):