Why everybody cheers for Tadd

By
.(JavaScript must be enabled to view this email address)
Friday - January 23, 2009
|
Share

Del.icio.us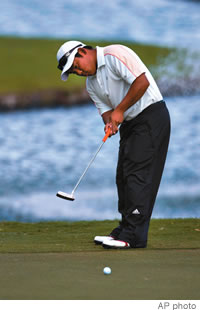 Tadd Fujikawa drew the biggest Sony galleries by far
Walking the fairways of Waialae Country Club last Sunday and looking at the huge gallery following Tadd Fujikawa, you couldn't help but give some thought to the reasons for his overwhelming popularity. After a brilliant round of 62 on Saturday that included nine birdies, Fujikawa got considerable attention from the national media, which jumped on the obvious storyline.But even that didn't fully explain the level of support and feelings of hope inspired by Fujikawa. There were snippets of conversation overheard green-side and along the ropes of overcoming other odds and uncommon perseverance.
Most Hawaii sports fans became familiar with Fujikawa during his 2006 Sony Open run when he became the youngest man to make a PGA cut in half a century.
And many followed a career that saw him turn pro and then struggle in professional events around the globe. But not only did
Fujikawa continue to work hard on his game, he did so with unfailing good cheer. Even through family troubles that have seen his dad arrested on serious drug charges, which are an outgrowth of crystal meth addiction, Fujikawa has soldiered on and always has a smile as wide as his youthful face will allow.
And maybe that fighting spirit and relentless optimism is what draws the Hawaii fans ever closer.
With uncertainty in the economy and so many despairing of paying their bills, watching the 5-foot-1-inch golfer march steadily toward his goals makes one want to straighten the back and brave the winds with a bit more confidence, and summon optimism in the face of adversity.
* Many of our recent presidents have had their special outlets for physical activity. Some, like Dwight Eisenhower, were heavily into golf. John F. Kennedy liked a little touch football when his back allowed him to play. Bill Clinton liked to jog. But few presidents have been keen for the hardwood like Barack Obama. Yes, he enjoys golf, but his most-regular form of exercise is pick-up basketball. This may be the first administration in history where your chances of presidential access could be greatly enhanced by an ability to dish the rock on the break.You can bet that some of the new White House staffers are putting some time in the gym working on their handles and jumpers.
* We are now in the second year of an NCAA mandated late start (Feb.20) for college baseball. In typical NCAA fashion, they've taken a month off the front end without adding anything on the back. Coaches expected that to strain their pitching, but didn't expect so many injuries.
"The arm problems around the country came as a surprise," says Hawaii head coach Mike Trapasso. "Could be a coincidence, but that seems unlikely."
Less surprising were the results of the teams playing up to six games in a week.
"Our last two games with New Mexico State with both teams out of pitching were pretty sad," says Trapasso."We won them,17-11 and 15-14, but that's not really baseball."
The topic is being revisited but don't expect relief anytime soon, because while extending the season a month would seem logical, the expense of housing and feeding the players after school is out will probably be deemed too expensive.
Most Recent Comment(s):