Why Home Court Counts In Playoffs

By
.(JavaScript must be enabled to view this email address)
Friday - June 02, 2010
|
Share

Del.icio.us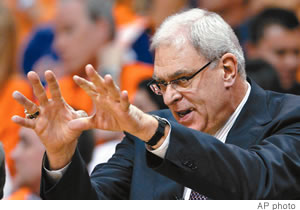 Lakers' coach Phil Jackson: Will he stay or will he go?
The hue and cry from Lakers fans after Phoenix won a pair of games at home to tie that series at two was all about the officiating. The evidence that the league and its officials conspired to extend the series was that, in those Suns wins, they had taken 74 free throws to the Lakers' 33.
The truth is the Suns were much more assertive at home than they'd been in Los Angeles (witness the play of Amare Stoudamire), and some of the Lakers, especially Lamar Odom, were not at full throttle in the desert. Teams generally are more aggressive on their home court, and tend to take it to the basket more. The visiting teams sometimes get oriented to the perimeter, and the Lakers even more so in response to the Suns' zone defense.
L.A. is not a good three-point shooting team, and when they take 60 in two games, they're in trouble. Officials are human and may be slightly influenced by a huge crowd, but the play of the teams accounts for the vast majority of the disparity in free throws.
* The rumors out of Los Angeles that the Lakers intend to rehire Phil Jackson - only at a greatly reduced salary - are going unchallenged by the team's front office. We know owner
Jerry Buss does not like paying coaches a ton of money, and Jackson currently is the highest-paid coach in sports at $12 million per. Jackson has plenty of cash, but it is how these guys keep score, and playing financial chicken with the coach is not likely to work in L.A.'s favor - unless they just don't
want him back, even if he is dating Buss' daughter.
* We're finally going to get a cold weather Super Bowl in 2014 at the new home of the Jets and Giants right across the Hudson River from New York City in New Jersey. Rarely has a relatively minor topic drawn so much interest,
proving that the NFL is a master of manufactured publicity.
Is this really a big deal?
NFL games are played in all kinds of weather, all year long. The people who will be most affected will be the corporate types, whose party activities will be exclusively indoors. But bet on this: Every other cold weather owner will want their own Super Bowl, led by Washington's Dan Snyder.
* A sad note that UH assistant basketball coach Eran Ganot is moving on.
Ganot was the last holdover from the Nash staff, and while new coach Gib Arnold quickly developed an appreciation for Ganot, he was only able to offer a director of operations slot, which is a step backward. Ganot will rejoin Randy Bennett at St. Mary's, where he will be a full-time assistant coach. Everyone here who got to know Eran will miss him. He's a first-class guy and an excellent young coach.
And while we're speaking of departures, long-time UH football assistant coach Ron Lee also will be missed. He announced his resignation last week, effective Jun 15. He was the receivers coach under June Jones, served as offensive coordinator and was most recently assistant offensive coordinator. Lee had a terrific rapport with players and was unfailingly cheerful with media and fans. He will relax and tend to his other business interests in Honolulu.
* I'm getting some kind of cosmic payback through my kids. Bad enough that they played last spring for the Hawaii Kai Shetland Dodgers, and my good pal, lifelong Dodger fan Dean Okimoto, got to see me wearing Dodger blue in the coaches box.
Now my oldest has moved up to the Pinto Red Sox! What next?
If they sign up for football will they be assigned to the Cowboys? I may not even be allowed to visit family in New York if that happens.
Most Recent Comment(s):