Wright To The World Series

By
.(JavaScript must be enabled to view this email address)
Friday - May 19, 2006
|
Share

Del.icio.us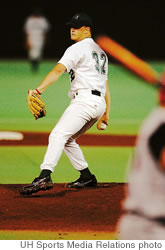 Rainbows' junior right-hander Steven Wright has
command of the ball
Could this be the year? Rainbow baseball fans have good reason to hope that this season will be the one that finds their team back in the post-season for the first time since 1993. Look at the teams that have great success in college baseball and you notice they all have a great starting pitcher, an ace, the man who provides an excellent chance to win every time he steps on the mound. The Rainbows have that pitcher in junior right-hander Steven Wright. Always considered one of Hawaii's most-talented players, Wright embraced his elevation to No. 1 starter this year, with remarkable results.
A coveted prospect out of Moreno Valley, Calif., Wright drew interest from ASU, Oklahoma State and Long Beach State before deciding on Hawaii. By all reports, Wright was not in great shape when he arrived in Manoa, but responded very quickly to his coaches.
"He's very good at absorbing and retaining information," says UH coach Mike Trapasso. "That has led to constant improvement."
His numbers weren't bad in his first year, appearing in 18 games with seven starts going 2-1 in 46.1 innings for an ERA of 4.86 with 30 strikeouts. In 2005, Wright moved to the bullpen appearing in 21 games where he led the team with four saves. In 66.1 innings he had 75 strikeouts and only 15 walks, and it became evident that he was beginning to master the strike zone.
"His strength is command," says Trapasso. "He throws fastball, slider and change, and he can spot all of them."
When you talk to Wright, you get the sense that changes made off the field mirrored increasing achievement on it.
"I had my wild party days in high school," he says. "And I lived in the dorms in my freshman year and it was fun, but I got tired of all the noise at night especially when we had a day game coming up and I could-n't sleep."
Wright credits his success to family. In fact, to both of them. His parents, Roy and Nancy, have been a huge support to his career, as has his grandpa, Robert.
"They listen to every game, and come see the games when we're on the Mainland," says Wright.
In Honolulu, he became a hanai member of the Oda family. Bob and Tara Oda befriended him; this year, he arranged to rent a room in their Hawaii Kai home.
"Yeah, I rent from them because of NCAA regulations, but it's more like being family," says Wright. "They never miss a game, and I'm away from the distractions on campus. They're just great."
The balance in his life has delivered extraordinary numbers this year. Wright has a record of 9-2, an ERA of 2.26 and has piled up 103 K's in 94 innings. You might think Wright is determined to continue his baseball career as a starter, but you'd be wrong.
"Absolutely doesn't matter," says Wright emphatically. "I just want the ball."
Asked about his favorite moments at UH, Wright ponders a moment. "Fresno at Fresno this year," he says. "That was the most I've been on my game. But when I came out of the game in the eighth against Sac State to a standing ovation, that was unbelievable. I loved pitching for these fans."
Interestingly, both Wright and Coach Trap agree on what he needs to do to get to the next level.
"He's got to keep his fastball down in the zone," says Trapasso. "You can get away with it here, but not in the bigs. And he can be a major leaguer." Wright's comments are similar.
"I'm trying to keep the ball down, and work on my change."
It's a given that Wright will be drafted in June. "I don't have a favorite team," he says, "but I have a favorite player - Roger Clemens. I love that bulldog mentality."
When I mention that many people think this is a regional team, Wright disagrees. "I think this is a College World Series team. When we play our brand of ball, we're hard to beat."
With school now out, it's all baseball for the Rainbows. And for Wright, a quiet life in Hawaii Kai, time with girlfriend Shannon Tompkins, school and baseball have proved a winning combination.
Most Recent Comment(s):