Yes, Boise State Is 'Pretty Good'

By
.(JavaScript must be enabled to view this email address)
Friday - November 17, 2010
|
Share

Del.icio.us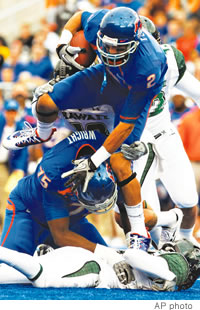 Austin Pettis and Boise literally ran over UH
People deal with disappointment in different ways.
That became obvious to me as I sat in the Boise airport a week ago Sunday waiting for a delayed flight home.
There was one main topic occupying the 15 or so Hawaii fans, and it was the one-sided loss the Warriors had suffered the day before at the hands of the Boise State Broncos. It was a bit like watching people go through the stages of grief.
Some were angry, others in denial, all were struggling to understand how yesterday's hopes had been so cruelly dashed. One man shook his head over and over asking how the team could be so bad in big games. He was dredging up other painful losses such as the 2007 Sugar Bowl, and even went back to the loss to BYU when Walter Murray dropped a potentially game-winning pass in the end zone.
One woman opined that "it just wasn't their day." Coaches and players were roundly criticized and some gave grudging praise to Boise State.
"They're pretty good," one fan said in a remarkable understatement.
But the season will continue, and hopes will rise again.
* Not so, however, for the 2010 Kahuku football team. After an anonymous tip led to Kahuku investigating and then self-reporting a rules violation concerning eligibility, the OIA responded by ordering Kahuku's games forfeited and its season finished. An appeal and lawsuit were unsuccessful, and many Kahuku supporters were angry at what they considered the intractability of the OIA. Yes, there had been a violation of the letter of the law, but not in spirit. There had been no attempt to gain unfair advantage. The OIA has always dealt with these infractions by declaring the offending teams' victories forfeited, and they did it here as well.
After the decision, there appeared to be mostly resignation and sadness, though the courtroom also was filled with a sense of grace and acceptance demonstrated by the Kahuku community members who traveled from the North Shore to hear the judge's decision.
I don't think the OIA had much choice under the circumstances, but you'd love to see some flexibility in the future where the penalty would be more appropriate to the wrongdoing.
* It feels like the excitement is back for UH Rainbow basketball. Teams take on the personality of the coach, and that means this team will play with energy and passion. They may not be ready to compete for a WAC title just yet, but they won't be the league doormat. And if first-year head coach Gib Arnold continues to recruit like he did out of the box, the program will rise to where post-season expectations could soon be reasonable.
* The NFL is a hard, cold place - as former Warrior and recent New England Patriot Jake Ingram found out last week when he was released following a series of bad snaps in a three-game stretch.
Now Ingram will have to wait until somebody is either hurt or released. He may have to wait for a chance to compete in next year's training camps.
Interesting, because several pro scouts like current UH long snapper Luke Ingram, Jake's younger brother. Said one, "We'd take him right now."
Luke Ingram is only a sophomore.
Most Recent Comment(s):