An Award-winning Surf-shooter Film

By
.(JavaScript must be enabled to view this email address)
Wednesday - April 14, 2010
|
Share

Del.icio.us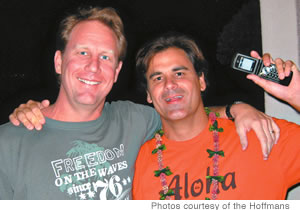 Derek and Craig Hoffman, and the poster for their Figberglass and Megapixels at right
Hawaii has long been considered the proving ground for those in the surfing industry, and not just for those who ride the moving mountains. Each winter photographers and cinematographers from across the globe make their way to the Islands with hopes of capturing "the shot" or "video clip" that will never be forgotten.
Two brothers who grew up bodysurfing at Sandy Beach have done just that with their new documentary film, Fiberglass and Megapixels. Derek and Craig Hoffman produced and directed the film which features Oahu's North Shore during the winter surfing scene and the mad rush to document memorable rides.
"We've shot surfing for many, many years, and we thought it would be a great idea to turn the camera around and shoot the people taking the pictures and videos that people see on television and in magazines," says Derek Hoffman.
They were right. Last month, the 48-minute film won the Best Surf Film Award at the 2010 Byron Bay International Film Festival in Australia. The film was also nominated for four awards in January at the 2010 X-Dance Action Sports Film Festival in Utah. One of those nominations turned to gold, for best editing. The brothers were also nominated for best documentary, best cinematography and best original score.
"To win best editing was satisfying because I knew we could make a quality product, but I didn't think we'd be winning awards in a film festival," chuckles Hoffman. "My brother Craig edited the project by himself,, and he was up against big companies with big budgets like Red Bull and Patagonia, which produced multi-million dollar films. We're just independent filmmakers, so to have success was rewarding."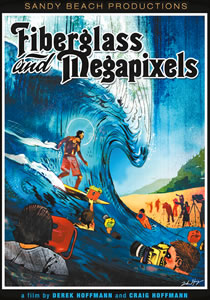 The film will premiere in Honolulu at the Hawaii International Film Festival (HIFF) Spring Showcase on April 18 at Regal Dole Cannery Theaters. The next screening will be at HIFF April 25 at Hilton Hawaiian Village Coral Ballroom Theater.
"It's a real good story, more than just a film with great surfing shots," explains Hoffman. "It's a different take on what goes on at the North Shore because it really is people trying to make a living, whether it is a surfer or photographer.
The North Shore is a definite proving ground."
"Next time somebody asks me what I do for a living I'll just have them watch this movie," says professional surfer Mark Healey. Fiberglass and Megapixels is the most honest portrayal of what professional surfing on the North Shore of Oahu is all about."
While the film focuses on the North Shore, it is Oahu's southeastern shore that's especially dear to them. The brothers grew up steps away from Sandy Beach. Fiberglass and Megapixels is their first production together with their newly formed company appropriately named, Sandy Beach Productions.
"Sandy's is where we found our love for the ocean," Hoffman says fondly of the bone-crunching break. "We went there every day after school so we have a deep connection with the spot, and that's the name that popped up."
Derek was the first to pick up a camera more than 30 years ago and has since traveled the world developing his skill as a water camera specialist. Craig earned a Masters degree in film directing and editing.
Recently the brothers have showcased their talents in high-profile projects. Craig has worked on LOST and The Descendants, while Derek has worked on several reality television shows including The Ultimate Fighter, Celebrity Apprentice, Simple Life and The Amazing Race.
"It's nice to have an original project, and hopefully we can build on this and start more locally based projects," says Derek.
"Who knows, maybe we can start employing local people."
With goals like that, these two local boys have little else to prove.
Most Recent Comment(s):