Celebrating The Life Of Al Streck

By
.(JavaScript must be enabled to view this email address)
Wednesday - November 17, 2010
|
Share

Del.icio.us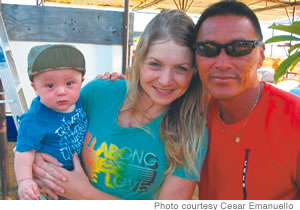 Al Streck with Carissa Rosenbohm and baby Kaden Kana'i
In this hustle and bustle world that we live in, where time is money and money is time, few people give just to give. Sure, many say they do, but often there is a hidden agenda involved or something to gain.
That was not the case for Al Streck.
Streck gave his time, energy, creativity and knowledge ... just because. He was consistent. There was never a reason and never a hidden purpose. He was that kind of guy. So when hundreds of people came to celebrate his life following his recent passing, most weren't surprised.
"He was a good man," says Kara Romersa, a sports marketer for University of Hawaii athletics. "You could really see how many lives he touched by all the people here."
Streck was tragically killed in a moped accident after a day of paddling canoe with close friends. The tears that streamed down faces at his memorial were those of prominent businessmen and women, beach boys, YMCA and UH employees, policemen, firemen and canoe paddlers. Each person had their own Al moment and memory to share.
"This is awesome," says James Kimo Moore, looking over the growing crowd. "Al was altruistic - he would give everything to anybody else before thinking about himself. I had to be here."
It was a feeling shared by everyone. Al was a canoe paddling coach with Healani Canoe Club, Honolulu Pearl Canoe Club and Waikiki Surf Club as well as St. Francis School. He also was an awards coordinator with the Honolulu Marathon, an events coordinator with the March of Dimes, a longtime YMCAprogram director and concert stage manager. Streck also spent his Saturday evenings for the past seven years at Aloha Stadium during the UH Warrior football season.
Hundreds raise paddles at the memorial to beloved paddling coach Al Streck
"Al was a spark that lit up our game-day crew we call 'H-Crew,'" says Romersa. "He was the first one at the stadium on game day, fired up and ready to work. Our H-Crew won't be the same without Al. We are so much better because of him and so lucky to have known him. He really was our warrior on the field."
Despite his busy schedule and numerous titles, his first priority and most important job was being a dad. Streck leaves behind his infant son Kaden Kana'i and fiancée Carissa Rosenbohm.
"His son is about a year-and-a-half old, and his son was his life," says Cesar Emanuello, who coached with Streck at St. Francis School. "I've never seen someone so happy to have a son. And he and Carissa were planning their wedding."
Romersa recalls Streck visiting the staff at UH the day before his fatal accident.
"He and his son came into the office to bring us little bags of cookies with 'Go Giants' on the bags," she says. "He was supposed to be with us at the game on Saturday, and it just wasn't like him not to come since he is always the first one there ready and fired up to work. I just still cannot believe he's gone."
Emanuello says he often thought Al was running for office because he knew so many people.
"I met so many different people from Al's world, friends of his friends," says Emanuello. "I was also fortunate to have him as one of my best men in my wedding. You just never know what could happen in a split second, in an instant you could lose your dear friend."
He was a friend, a colleague, a dad and soon-tobe husband. Hawaii lost one of the good guys in Al.
Most Recent Comment(s):