A Creative Company By Design

Wednesday - December 28, 2011
By
.(JavaScript must be enabled to view this email address)
|
Share

Del.icio.us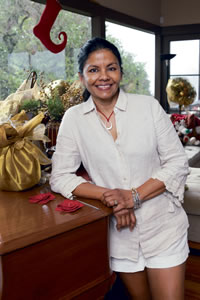 Interior designer Aloma Wang. Leah Friel photo

.(JavaScript must be enabled to view this email address)
Your home is your sanctuary, and interior designer Aloma Wang, owner of Aloma Wang Designs, can help make your dream home into reality. Wang jump-started her business 20 years ago in Kaanapali, Maui, when a friend asked her to assist with the interior design of a resort, and she hasn't looked back.
"I don't have any formal training when it comes to interior design, so I do it very intuitively," Wang says. "For example, the colors I pick for clients come very intuitively, and I feel that is why I'm successful."
Wang focuses predominantly on decorating private homes, but also has lent her talents to businesses such as dental offices, and a couple of resorts on Kauai and Maui.
"My clients can expect to have a unique design, one that's really tailor-made for them," she says. "I feel like my strength is that I really listen to my clients, and incorporate several designs to make it their own. Every home that I have worked on is very unique."
Born and raised in Sri Lanka, Wang left her hometown of Kandy to travel abroad in Europe, before relocating to California and eventually Hawaii. Now, Wang works full time from her Manoa home to give her clients exactly what they desire.
"I can easily work with many budgets. Though I usually charge $120 per hour, if it's a new home I'm working on from scratch, I can work with the client to determine a flat rate," she says. "I love designing homes from scratch, but creating something new from an old home also is very exciting."
According to Wang, the entire process from design to build usually takes six months up to a year to complete. Wang devotes countless hours to her trade and works with 20 clients per year on average.
"People have this perception that interior designers only cater to the wealthy, but we don't interior designers are for everyone, we can cater to all clients," Wang adds. "It's important to sit down and talk with my clients and really get to know their likes and dislikes, as well as the functionality they require from certain rooms, and from there I'm able to put something together that they will hopefully love it's all about putting trust into your creativity."
For more information on Aloma Wang Design, call 7531718.
Most Recent Comment(s):