A Fleet Of Unique Wooden Models

Wednesday - December 21, 2011
By
.(JavaScript must be enabled to view this email address)
|
Share

Del.icio.us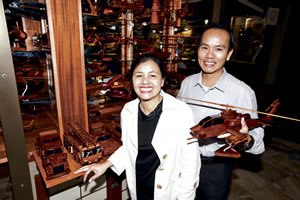 Lang and Cuong Tran with their handmade wooden models. Leah Friel photo

.(JavaScript must be enabled to view this email address)
With the countdown to Christmas just days away, some of you may be searching for a last-minute gift for that special someone. If you're on the search for something unique, look no farther than Cuong Tran's handmade wooden creations.
Tran, along with wife Lang, owns and operate CL Art Creations, a retail kiosk located on the second level of Ala Moana Center near Nordstrom.
"We have 70 different handmade wooden models for sale, ranging from airplanes, helicopters, cars, tanks and golf carts to guitars, pianos, lighthouses and more," says Tran, a native of Vietnam.
Prices for each model range between $20 and $80, and all are made of mahogany wood.
"This is a family business that we've been involved with for about 15 years, and my sister Kim Nguyen makes everything by hand," he explains, noting that each model takes generally 18 to 36 hours to complete.
"We opened our kiosk here at Ala Moana Center last month and business has been growing our merchandise is very unique."
According to Tran, these wooden stationary models make the perfect gift for any collector and those who appreciate hand-crafted work. Each piece is one-of-a-kind and they are great conversation starters.
"People enjoy these models and like to show them off in their homes they're very beautiful. The helicopters and airplanes are our best-sellers, and we have new products coming in from time to time."
Tran hopes to see his business increase in the near future, and is looking to open a CL Art Creations LLC location at the Navy Exchange.
"Our merchandise is very popular with both locals and tourists, but especially with the military, so we're excited to see where our business is headed in the new year."
CL Art Creations' kiosk is open daily from 9:30 a.m. to 10 p.m. during the holidays. For more information, call 2301467 or email .(JavaScript must be enabled to view this email address) .
Most Recent Comment(s):