A One-of-a-kind Kiosk At Ala Moana

Wednesday - January 11, 2012
By
.(JavaScript must be enabled to view this email address)
|
Share

Del.icio.us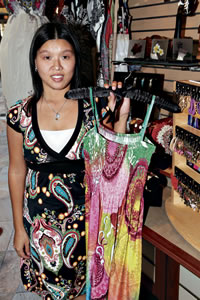 Ivonne Machado. Leah Friel photo

.(JavaScript must be enabled to view this email address)
A passion for fashion is what led entrepreneur Ivonne Machado into the retail industry many years ago. Now her business, Lotus Creations, has catapulted even further, as she recently expanded it with a kiosk, located on the second floor of Ala Moana Center near Nordstrom.
"I sell a variety of merchandise: clothing, handbags, messenger bags, jewelry, wooden vases, glass coasters and more," says Machado, a native of Indonesia. "My family and friends help me handcraft all my merchandise, and all the materials and fabrics used are all from Indonesia as well."
Machado made her way to the Islands in 1998 to attend HPU, where she obtained a bachelor's degree in travel industry management and a master's degree in business administration.
"I believe my education has helped me in my business ventures today," she says. "I get to meet people from all around the world. Tourists from Australia love my dresses, they always buy several. Japanese tourists also stop by to purchase clothes and jewelry, because what I offer, you won't be craft fairs.
"My business was doing really well at the craft fairs, and customers would ask me if I had my own store, which led me to open this kiosk here this past October," she says. "I have a lot of loyal customers who would come visit me at the craft fairs, and they're happy that I now finally have a kiosk here. They keep coming back to buy my merchandise, which ranges from $22 to $42 for clothing pieces and $5 to $18 for jewelry.
"Lotus Creations' dresses and blouses are perfect for warmer climates. I look online and in magazines for inspiration with designs, and then I add my own personal touch. I collaborate with my family and friends to always come up with new styles and ideas."
Machado hopes to someday upgrade her business once more by opening a small boutique. She says having your own business is always a bit challenging in today's economy, but she's been fortunate that Lotus Creations has remained stable.
"It takes two months on average to complete a wardrobe piece, but I always change up the style every four months or so," she says. "I usually have 20 to 30 pieces in each style, and once it sells out, then you won't be able to find that exact design and style again.
"What I've learned as an entrepreneur is that you have to take chances, but always think positively nothing is impossible. It's best to be creative, original and always pursue what you love."
For more information on Lotus Creations, call 3985044 or email .(JavaScript must be enabled to view this email address).
Most Recent Comment(s):