An Exquisite Way To Plan Your Day

Wednesday - December 14, 2011
By
.(JavaScript must be enabled to view this email address)
|
Share

Del.icio.us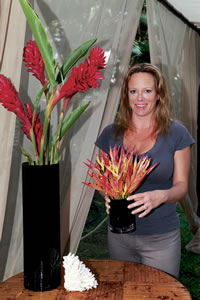 Jana Heetland. Leah Friel photo

.(JavaScript must be enabled to view this email address)
When the countdown is on to your wedding day, Jana Heetland, owner of Exquisite Hawaiian Weddings and Exquisite Design Hawaii, can save you from becoming that dreadful "bridezilla" or even "groomzilla."
Heetland started her wedding planning business in 2007, and says her passion for weddings is what led her to her dream job.
"I had moved to Hawaii from California, where I had previously done weddings for three years in Huntington Beach and Newport Beach with a friend of mine. When I moved here (Hawaii), it was just the perfect opportunity to start something of my own," says Heetland.
"Hawaii is such a great place to do weddings. As far as destination weddings are concerned, Hawaii is second in line to Las Vegas."
On average, Heetland will oversee 20 to 50 weddings a year, ultimately bringing a couple's vision to life.
"As for my business, I think I offer a modern edge," she says. "I do a ton of destination weddings, and I think people who find me are looking for something that's a little out of the ordinary we customize everything to meet a couple's wants and needs. I don't like to do things like everybody else, I look to find new angles and creative ways to do things.
"I work with some of the best people on the island whom I recommend to my clients a solid team of people whom I respect and trust when it comes to your wedding. Everyone goes above and beyond," Heetland adds. "We transform ballrooms. I hire out people who will do lighting, custom linens, custom structures, etc. everything just depends on the budget, of course."
Nowadays, the standard cost of a wedding usually falls close to a $30,000 price-point, yet Heetland says there are ways you can do it for less.
"I feel like, a lot of times in Hawaii, you can save costs because it seems like everyone knows somebody who can provide something for their wedding whether it be a photographer or a caterer ... to spend as little as possible."
Heetland jump-started her business by providing primarily coordinating and planning services, but began to notice an interest in doing floral arrangements and event-design work as well.
"I work with the couple to set a price for my services depending on what they need, but if they book me to do their floral arrangements as well, then they'll receive a discount on planning services," Heetland explains.
"I just like to throw good parties!"
For more information on Exquisite Hawaiian Weddings and Exquisite Design Hawaii, visit exquisitehawaiianweddings.com and exquisitehawaiianweddings.net, or call 497-6878.
Most Recent Comment(s):