Catering To Those Who Love Hawaii

Wednesday - January 18, 2012
By
.(JavaScript must be enabled to view this email address)
|
Share

Del.icio.us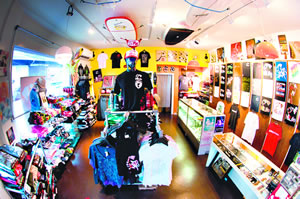 Butigroove is a musically and culturally driven clothing brand that's locally owned and produced. Photo courtesy BJ Sabate
BJ Sabate, vice president of the Maui Bay Shirt Co. Butigroove, a locally owned and produced musically and culturally driven clothing brand, believes that we are all born to the same beat and live by the rhythm of life. He kicked off his business in 2000, opened a storefront on Piikoi Street, plus an online store, and hasn't looked back. For Sabate, it's always been about walking to the beat of his own drum.
"The idea to start my own label came about in graphic design school at University of Washington," says Sabate, an Aina Haina native. "The name 'Buti' came from a conversation with a friend from Japan who had a thick accent. He told me, 'Hawaii is so butiful,' and my initial concept was the words 'Have a Butiful Day' backwards, so when you look in the mirror in the morning, you start the day off right."
According to Sabate, Butigroove targets the 15 to 35 age demographic, offering a variety of casual clothing, including T-shirts, sweatshirts, hats, accessories, decals and more geared toward men, women and keiki.
"The average cost of a Tshirt is $25, and we cater to those who love Hawaii, those who believe in the aloha spirit, and realize that it (aloha spirit) can live within you no matter where you are.
"My concept has evolved over the years. Right now we're dedicated to selling products from Butigroove, HiLife brand and other featured items."
With 18 dedicated employees on staff, Sabate hopes to expand his business beyond T-shirt printing, and wants to further his online business as well. Yet, when it comes to creating a business philosophy, Sabate's got it down to a science.
"You always have to be fair in everything you do, respect others and accept competition as healthy competition. It's the only way to elevate your business," he says. "Follow your passion, don't be afraid to build a team that will make your goals more attainable. I was raised playing team sports, and I'm grateful. I think if you learn to work as a team, to reach a common goal, either short term or long, it's easier with a group of people that you have fun doing it with."
Butigroove is located at 500 Piikoi St. and is open Monday-Saturday, 10 a.m.6 p.m., and Sunday, noon-5 p.m. For more information, visit butigroove.com.
Most Recent Comment(s):