Doing Local Kine Funny Business
Wednesday - April 02, 2008
By
.(JavaScript must be enabled to view this email address)
|
Share

Del.icio.us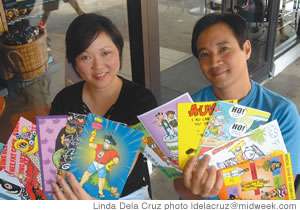 Gayle Machida-Isono and Paul Isono get Local Kine cards
Colorful, action-packed cartoon drawings of local folks doing local-kine things and saying something humorous in pidgin is the hallmark of Maile Way Products greeting cards. The husband-and-wife team of Paul Isono and Gayle Machida-Isono offer Local Kine Stationery at more than 70 stores statewide, including Longs Drugs, Don Quijote, Mark's Hallmark and Wal-Mart.
The cards show keiki with rice bowl haircuts, rainbow shave-ice, and brown-skinned, slipper-wearing men saying things like "Da bes'!"
There are cards for all occasions including birthdays, Mother's Day, Father's Day, graduation and Christmas. There's also a line of cards honoring Hawaii festivities such as Girl's Day, Boy's Day, yakudoshi and conreki (male 60th birthday). There are even cards celebrating Hawaii's ninth island, Las Vegas.
"The local feel and the local twist are emphasized in the card," says Paul, a Roosevelt High grad. "People who live in Hawaii relate to it."
Gayle explains, "And there are also some people who visit the Islands so much that they understand it, too. One woman told me that she had lived in Hawaii and she moved to Utah. When she received one of our cards, she started crying and got homesick. Her eyes started welling up when she was telling me the story."
Gayle, a Lapahoehoe High grad, often comes up with the words that get printed.
"I think I'm better at pidgin than the others," she boasts, noting that she grew up in the Ookala plantation town on the Big Island.
"We're like a niche within a niche," Paul observes. "We're a local card within the Hawaiian card genre."
Each year they introduce new cards and have kept some of the best-sellers in print year after year.
It all started in 1994 when they did a few birthday and thank you cards in this local style. They named the company Maile Way Products because they first met on Maile Way on the University of Hawaii-Manoa campus. That's also where they met Jon Murakami, who still works with them. Artist Dennis Fujitake joined the crew a year later.
"Some people think its my name, Maile Way, and that I'm Chinese," Gayle jokes. "I just answer anyway."
In 1997, the first store that gave them a chance to sell their cards was Longs Waipahu. What started as a part-time endeavor snowballed into a full-time business for the couple as they take the orders, pack, deliver and set up the cards at various stores. With two illustrators and four part-timers on the Neighbor Islands to help them out, they keep busy.
"We set it up at the stores ourselves," Paul says. "We can hear people's feedback when they are making comments about the cards, and they think we're just workers. They don't know we are the owners of the company. We like it that way because it keeps us in touch with our product."
His background includes running a graphic design business an working in restaurants, in retail, and at the University of Hawaii. Gayle has worked at Holiday Mart (now called Don Quijote) and in a chiropractor's office. They say their experiences working for others helped inspire them to start their own business. They also credit their parents for helping their business succeed by volunteering their time. Gayle's mom, Tsuneko, helps with paperwork while her dad, Kuniaki, and Paul's parents, Harold and Betty, pitch in by packing the cards.
"Because our business is so streamlined," Paul says, "we can proudly say that we print our cards locally."
"We even recycle our boxes for shipping," Gayle adds.
There are many challenges to running a business, and Paul shares one of their tips to dealing with them.
"We are always in a worst-case scenario mode," he says. "We are efficient as possible, and we are ready for a downturn in the economy. We take it day by day, and as long as we are in the worst-case scenario mode, we will be good. It's not good to be arrogant and cocky."
Gayle emphasizes, "We never take anything for granted."
Their future goals include getting a website up, hiring another employee and expanding with some new products.
"The cards are a reflection of our life, of our experience, our childhood and getting older," the couple admits.
"Probably when we have a family we'll start having baby cards, too."
For more information, call 753-5853.
Most Recent Comment(s):