Edgy Lee Takes TV To The Internet
Wednesday - July 09, 2008
By
.(JavaScript must be enabled to view this email address)
|
Share

Del.icio.us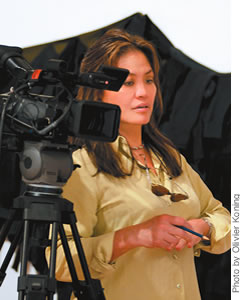 PacificNetwork.tv founder Edgy Lee emphasizes good content
PacificNetwork.tv showcases stories about Hawaii in a comprehensive online television network.
"With Internet access, we have opened so many doors," says Edgy Lee, PacificNetwork.tv founder and award-winning filmmaker. "These days, a small company can reach people all over the world, and we are doing it with film and video. We are specifically for the Hawaiian people and the Hawaiian culture."
The site officially launched in May.
With a staff of 12 people, Lee has created a venue where films can be previewed a few parts at a time, and if the viewer likes the film, the DVD can be purchased online. Her staff includes former UH football player Johann Bouit and director Jason Ordenstein working as cameramen, as well as reporters and editors. A partnership with private businesses, media and some state agencies is a part of the business model where TimeWarner Telecom, Hawaii Public Radio, KGMB9, the Hawaii Tourism Authority and the Office of Hawaiian Affairs are involved.
PacificNetwork.tv is a tool for our contemporary culture," says Lee.
The news and shows cover health, travel, science, environment, sports, family, classroom, arts and culture. The audience includes anyone who wants to know something about Hawaii, whether they are local residents, former residents or visitors.
"We need to have good content," she emphasizes. "Here is the chance for those folks who have been asking 'What about us?' to have a voice."
As of press time, one of the news stories focused on how Hawaii is changing, which included opening and closing of businesses as well as locals choosing to return to Hawaii to work.
Lee says the editorial part of the website is popular. A question is posed and a variety of people with different views respond. All of the programming posted is first reviewed by the PacificNetwork.tv staff.
The Connections portion of the website hosts forums on topics such as mixed martial arts and teen violence. People post their opinions on the topic with or without video.
Coming up will be an interactive program called Local Justice, where folks who would have gone to small claims court decide instead to have their case heard on the show. The public will have a chance to express their opinions on how the case goes. Judge Boyd Mossman hears the case, and his decision is announced by KUMU radio personality Frank B. Shaner, who interviews the defendant and the plaintiff to get their take. Everyone on the show receives prizes, and the radio station helps promote it.
"People choose to go on a court TV show because they want to prove to everyone they are right," says Lee. "It's not for the money."
For more information, log onto www.PacificNetwork.tv.
Most Recent Comment(s):