Health Care With A Focus On 'Care'
Wednesday - June 02, 2010
By
.(JavaScript must be enabled to view this email address)
|
Share

Del.icio.us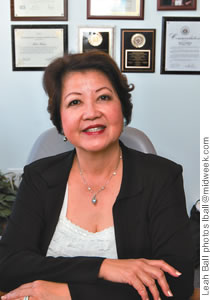 Beth Hoban in her Prime Care Services office
Staff portraits and group photos are on display in the Prime Care Services office, just as in a private home.
It's evident that Beth Hoban takes pride in her professional staffers, who specialize in caring for homebound patients.
"We treat each other like family," she says. "So when you go out to see patients who are older, it's like your grandmother, your auntie or your mother. How would you treat them? That's what we look for."
With 25 to 30 full- and part-time staffers, Hoban has an administrative team and clinicians - registered nurses, home health aides, physical, occupational and speech therapists, and social workers -who give part-time help to patients a few times a week.
Hoban was a labor and delivery nurse on the Mainland before moving to Hawaii in 1974. The Kaneohe resident conducted Lamaze classes, and worked at Queen's hospital as a labor and delivery nurse manager until 1994, when she started Prime Care Services in part because her mother had broken her ankle, legs and hip in a car accident. Upon release from the hospital's intensive care unit, she was referred by her doctor to a skilled nursing facility about an hour away from home.
"She is very family-oriented," Hoban says about her mom. "She asked, 'Is there a way I could stay home so my family can visit me?' Home care was suggested."
After researching home health care, it was decided that a nurse and a physical therapist were part of the healing process.
"Mom wanted to dance at her birthday party six months away," recalls Hoban. "So she was very diligent about her exercises, and she did get to do her cha-cha-cha."
A family affair, Prime Care Services' administrative staff includes husband Jim and their children Sean, Lynn and Michelle. Her children Jamie and Carlo also are supportive of the business.
The agency's team-building activities include regular lively conversations while enjoying home-cooked meals at the office kitchen table, and participating in community service, such as the American Cancer Society Relay For Life. She's also active with Friends of UH Manoa School of Nursing, Rotary International and the National Association for Home Health Care, as well as other health-care associations.
"We are looking forward to seeing how technology can help our industry," she says. "It'll be another way we can help our patients."
Prime Care is located at 3375 Koapaka St., Suite I-570. For more information, call 531-0050, or log on to www.primecarehawaii.com.
Most Recent Comment(s):