Inspiring Filipinas To Succeed
Wednesday - November 07, 2007
By
.(JavaScript must be enabled to view this email address)
|
Share

Del.icio.us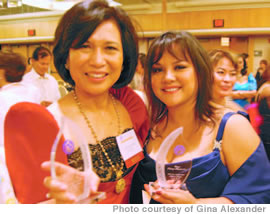 Loida Nicolas Lewis (left), a billionaire who is the richest Filipina in the U.S., with Gina Alexander
In seminars to empower others, photo handbag entrepreneur Gina Alexander shares her story of how she became a millionaire.
"I'm an open person and want others to succeed," she says. "If I have something special, why not share it? It would be selfish for me to keep it."
What woman wouldn't want a bag that showcases a picture of her most precious loved ones? She launched the company as a way to subsidize her wish to adopt her own precious loved one - a child.
"I'm a handbag fanatic," admits Alexander, who started the company in 2000 and adopted her daughter, Katelyn, when she was 2 weeks old, in 2003.
"Handbags are a woman's best friend - it has everything we need, so it meets an emotional need of ours."
With 6,000 square feet of Los Angeles-based office and warehouse space, Alexander easily attracted a celebrity clientele. That led her to expand her business to include the Jimi Hendrix Collection, an exclusive line of handbags and leather jackets with the entertainer's image on them. In fact, when it was time for a scheduled interview with MidWeek, Alexander was on a tour bus with the Hendrix crew.
She says she chose handbags because it allows her to have time for a family - and it's her family she credits for her success.
"My best training was from my parents, Cesar and Imelda Lopez - they were the first Filipino couple to own a Denny's franchise in the United States in California," says Alexander, who spent the first five years of her life in Hawaii. "We owned hotels, restaurants, a limo service and a lot of property."
Alexander was honored last month as one of the 100 most influential Filipina Women in the United States at the Filipina Women's Network fifth annual Filipina Summit.
"We need more Filipina entrepreneurs," urges Alexander. "Alot of women need mentors, plus we have so many needs in the Philippines that need to be taken care of, like adopting children who are abandoned."
When MidWeek asked why she wants to empower other women, she said she wished she had had a mentor by her side.
"I love to see others succeed," she explains. "I rejoice in other people's successes. The tools I have learned give me so much freedom, and having financial freedom is awesome. I get to travel, shop, go to seminars that cost thousands of dollars and gain a lot of knowledge."
The former jewelry designer trained in fashion design in Europe. She did marketing, forecasting and merchandising for Sue Wong Couture, Rampage Clothing Co., RAFE and Isabella Fiore.
But running a corporation is no easy task, Alexander admits.
"The biggest challenge in my company is money," she says. "Our company is growing, so keeping up with new machineries and technology is not cheap. I have a high standard for my handbags. Every stitch has to be straight, every leather consistent, and I only want the best hardware from Italy. We have opened a new division 'licensing,'and it has been a challenge, but a healthy challenge. The perks are that I get to work with celebrities and rock stars up-close and personal."
Alexander says everyone has their own strengths, and she considers her strength to be creating. For a successful enterprise, Alexander believes companies need five things: someone who handles the money and is frugal; a good customer-service team; a great website director; a publicist who will get the company in all the magazines; and, finally, a product that gives value to the customer.
She says one of the secrets of her success is that she does not focus on the competition. "We are more concerned with the inside of the company," explains Alexander about her 15 employees. "If the heart is not healthy, the whole body cannot function. We go out of our way to teach our employees that how you do your job here is the habit you are creating for your life for eternity."
Alexander donates a portion of the proceeds from every bag to the Hope For Children charity, which helps families who want to adopt. "I love my life and what I do. I'm living the life I love!" gushes Alexander.
She soon will be launching www.FilipinaMillionaire.com. For more information, log onto www.GinaAlexander.com
Most Recent Comment(s):