Lifelong Model Shares Her Secrets

Wednesday - January 25, 2012
By
.(JavaScript must be enabled to view this email address)
|
Share

Del.icio.us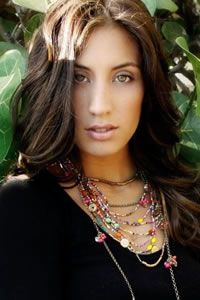 Rain Rusden. Photo courtesy Rain Rusden
You could say 24-yearold Rain Rusden was born with the X-factor. Having begun modeling at the age of 2, it's only fitting that she is now the owner and instructor of RAIN Modeling & Charm School, a business she started almost two years ago.
"My mother is a wellknown fashion photographer, and both of my parents (Sri and Ruz Rusden) have modeled professionally around the world, so when I was 2 years old I was living in L.A., had an agent, and worked my very first job on a movie poster I've been modeling ever since," says Rusden, who was born in Honolulu.
"New models come to me asking for help on how to walk the runway, or what the ins and outs of this industry are. I've also had mothers emailing me asking how they can get their young daughters into modeling," Rusden explains. "I figured I would love to teach girls everything they'll need to know about this industry that I'm so passionate about, and that's how my business came to be."
Rusden's clientele is diverse, but the majority of clients are girls and women ranging from age 3 to 50-plus. Drawing from personal experience as a veteran in the modeling industry, she teaches the basics of modeling and commercial work, while also catering to the needs of each age group.
"I teach children how to have poise and good manners, I teach teens how to groom themselves and have confidence, and I teach adults how to better present themselves from head to toe," Rusden states.
"First impressions are key, so my adult clients use what I have taught them in both professional and personal experiences."
A one-on-one (appointment only) six-week course can range from $300 to $600 depending on the course, and following completion of a course Rusden can refer students to various modeling agencies in Hawaii and also on the Mainland.
"I've never been a fan of sticking children and teens into a big modeling class and only having one to two hours of lesson time, and really not getting the individual critique and attention they need to actually succeed in the modeling industry," Rusden says. "I want to be the instructor who really gives each girl a one-on-one experience to be able to help, critique and pour all the information I know about this industry into each and every student I teach.
"I am passionate about giving these girls the experience and education they need to step foot into the modeling world and really take flight."
For Rusden, the biggest reward of owning and operating RAIN Modeling & Charm School is having the satisfaction of helping an individual realize their full potential.
"This year I want to take the necessary steps toward my future business goal, which is to expand my business and hopefully open an agency one day," she adds.
For more information on RAIN Modeling & Charm School, visit facesbyrain.com.
Most Recent Comment(s):