Providing High-tech Techniques

Wednesday - January 04, 2012
By
.(JavaScript must be enabled to view this email address)
|
Share

Del.icio.us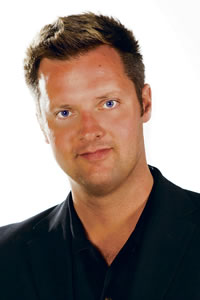 Matt Muccio. Photo courtesy Matt Muccio
Matt Muccio, president and owner of Techniques Hawaii, wasted no time making his entrepreneurial dreams come true.
Originally from Birmingham, Ala., Muccio began his business journey while still in college.
"In 2001 I started my first business, a cellular phone company called Corporate Cellular, while studying financial management at the University of Alabama," Muccio says. "Later, I sold my stake and moved to Hawaii, and in 2004 was hired as president of Techniques Hawaii.
"Five years later, I bought a majority stake in the company because I saw the opportunity to expand and provide new services."
Techniques Hawaii is a 25-year-old company focused on providing audio and visual production services throughout the state, as well as TV/video production through a company division.
"Our business model is to train leadership in our various divisions and support them in growing their business segment beyond their wildest dreams," Muccio explains. "We have in-house service contracts with many Oahu hotels, and we service, on average, about 15 to 20 events per day. Most of our clients are event planners, local companies or Mainland groups visiting the Islands for incentive travel."
According to Muccio, his company prides itself on its competitive prices while offering the best possible service and equipment to clients.
Techniques Hawaii also has experienced exponential growth when Muccio first started with the company there were only four employees operating the business, and currently there are 21.
In addition, Muccio plans to continue acquiring event services and technology companies whose services complement the needs of important hotel clients and their customers.
"In five years, we hope to become a conglomerate of high-tech event-services companies with shared clients and administrative resources," Muccio says. "Our goal is to create a one-stop shop for anyone holding an event in Hawaii, and to become one of the most valuable resources for Hawaii's event professionals. We plan to continue our commitment to enhancing our clients' service experience and to increase sales, even though the national economy may be weaker.
"Most of all, we hope to serve the Hawaii community and spread aloha to clients through our passion for our businesses."
For more information on Techniques Hawaii, call 947-8428 or visit techniqueshawaii.com.
Most Recent Comment(s):