The Art Of Growing Asparagus
Wednesday - September 03, 2008
By
.(JavaScript must be enabled to view this email address)
|
Share

Del.icio.us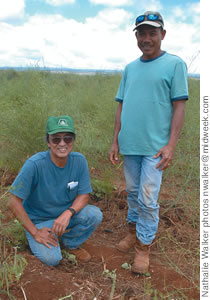 Milton Agader (left) and Al Medrano at Twin Bridge Farms
Business partners Milton Agader and Al Medrano say asparagus has tossed their company Twin Bridge Farms into the spotlight.
"Asparagus is our signature crop," explains Agader about their Waialua-based business. "We are the only ones in Hawaii commercially growing asparagus."
The state Department of Agriculture contacted them to be a part of the 12 charter members that started the seal of quality.
"Asparagus is considered a gourmet item, too," adds Agader. "We do it quite well. It's well-received in the marketplace. It wasn't really grown here commercially. People remember it was grown on a small scale here, not the scale we are at right now (on 65 acres).
"People have tried growing it. What makes us succeed with asparagus is we can move people around because we have other crops that we grow. When we fall behind in the asparagus field, we have other labor we can put in to catch up. When it is slow in the asparagus field, we can pull them off and let them do other things. If asparagus was all we did, we would not have been able to keep up."
Twin Bridge Farms asparagus and employees will be one of the stops on the tour for the Chefs du Jour Island Moments show on KHON 2 at 9 p.m.
Sept. 4 and at 4 p.m. Sept. 6, hosted by Emme Tomimbang and Chef Alan Wong. The partners say that Wong has been a customer since way back when they were just starting.
Twin Bridge Farms asparagus is available at Foodland and select restaurants, including Town, and will be sold at the Whole Foods store at Kahala Mall that opens this month.
While asparagus brings the farmers the most attention, they also grow corn for Pioneer Hi-Bred International and potatoes for Minnesota and Canada.
At the Saturday morning Waialua Farmers Market, they sell their sweet onions, sweet potatoes, sunflowers, okra, long beans and vine-ripe tomatoes. They also grow papaya, eggplant, sweet peppers, squash, pumpkin and araimo (Japanese taro).
Agader and Medrano worked at the Waialua Sugar Mill for 26 and 18 years respectively until it closed in 1996. Then they both were employed by Dole Food Company until they learned their jobs were going to be eliminated. That's when Dole asked them if they would be interested in continuing as a private growing contract for Pioneer. They agreed, and in 1999 Dole sold them the equipment they needed to start Twin Bridge Farms. They took their company name from Haleiwa, where two rivers meet on the makai side of the two bridges. The Waialua Sugar Road was called Twin Bridge Road on old maps. Their first crop of asparagus was ready to be harvested in September 2001.
These days, Agader takes care of administrative tasks and Medrano is responsible for the farming. They both say they appreciate their families for their support of the business.
One challenge of running the farm is keeping up with the pests.
You have to watch out for the insects and the weeds," says Medrano. "If they beat you, then you'll have nothing."
To overcome that challenge, they do their best to understand their 15 employees who help make the business grow.
"We might try growing some organic food in a year," adds Medrano.
For more information, call 864-6477 or e-mail .(JavaScript must be enabled to view this email address).
Most Recent Comment(s):