The Bottom Line Is Profitability
Wednesday - December 30, 2009
By
.(JavaScript must be enabled to view this email address)
|
Share

Del.icio.us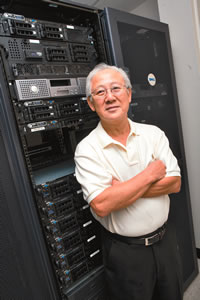 Profitability of Hawaii owner Bob Kim
In these tough economic times, businesses need all the help they can get to minimize waste and turn a profit.
Profitability of Hawaii customizes computer software and makes accessing information easy for companies, locally and nationally.
"Every day, when the phone rings, you have to perform," says owner Bob Kim.
One of the programs the firm has created allows multiple stores in national franchises to access an inventory list, so the company can do central ordering. This way there isn't any overstock, Kim notes, and it reduces the waste of time, money and other resources.
In addition to customizing software, the company offers a document-scanning service. The firm can take 30 banker boxes full of information and put it onto one DVD or post it online, which saves space. Law firms, for example, often have loads of paperwork that's needed for cases being worked on, and the document-scanning service makes the files easier to handle and store.
For banks, a check-imaging software was created, and it's used all over the country, from New York to California, as well as on Guam.
Profitability of Hawaii's clients include mom-and-pop businesses to larger companies in various fields including financial, medical, building and legal.
The company was founded 35 years ago by accounting professional Jim Alexander. Kim joined the firm 30 years ago to help with automation. When the
owner got sick, he was relied upon to help guide the company. Kim, a McKinley High graduate and Hawaii Kai resident, earned a share of the business and eventually took ownership.
With the tough times that many firms are experiencing, he says his work has increased and the money remains the same.
One of the opportunities he acknowledges is the chance to let his employees know that they are responsible for the success of the company.
"I practice taking care of my people," he says. "I hope they will perpetuate the values I run the company with."
In fact, Kim says he plans to turn the operations over to key employees in the future, if they earn it.
In addition to his employees, he says he appreciates all the support of his customers, friends, family and especially wife Nancy and their five sons David, twins Brian and Chris, Anthony and Jonathan.
Profitability of Hawaii is located at 1000 Bishop Street, seventh floor. For more information, call 536-6167 or log onto http://www.poh.com.
CORRECTION: In last week's column, the hours of operation for Kali's Nail Supply, located at 547 Halekauwila St., were incorrect. MidWeek regrets the error.
The hours of operation are from 10 a.m. to 6 p.m. Monday and Friday, 10 a.m. to 4:30 p.m. Tuesday, Wednesday, Thursday, and 11 a.m. to 4 p.m. on the first Sunday of each month.
Most Recent Comment(s):