Estee Lauder Event At Neiman Marcus
Compiled by
.(JavaScript must be enabled to view this email address)
Wednesday - January 25, 2012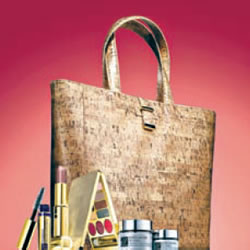 Estee Lauder Event At Neiman Marcus
It's the Up Close: Estee Lauder seasonal event, exclusively at Neiman Marcus. From Jan. 25 to Feb. 5, receive an elegant tote and beauty gifts ($195 value) with your Estee Lauder purchase of $70 or more. Open up the cork print fashion tote, and you'll find a makeup palette featuring the most requested shades for lips and eyes, a full-size lipstick, deluxe sample of mascara, 14-day supply of Re-Nutriv Ultimate Lift Age-Correcting Creme and 14-day supply of Re-Nutriv Ultimate Lift Age-Correcting Eye Creme. One gift per customer, while supplies last. For more information, call Neiman Marcus Ala Moana at 951-8887.
Revive Skincare Event At Nordstrom
Dr. Gregory Bays Brown, renowned plastic surgeon and founder of ReVive skincare, will host intimate anti-aging education classes at Nordstrom Ala Moana Friday, Jan. 27 at 3 and 5 p.m., and Saturday, Jan. 28 at noon and 2 p.m.
The 90-minute seminar will focus on ReVive's new product offerings and the brand's unique Nobel-prize winning technology. After each seminar, Dr. Brown along with brand ambassador Hylton Lea will be available to explain how the science behind ReVive can help women and men reverse the signs of aging skin, and conduct customized skin analyses and consultations for all class attendees.
To reserve your seat in a complimentary ReVive skincare class, call 953-6100, ext. 1901. Space is limited and will be filled on a first-come, firstserved basis.
New Stores At Windward Mall
Windward Mall has announced the addition of three retailers Mocha Java Cafe, Tax Busters and TrickedOut Accessories.
Mocha Java Cafe is located across from Zales and offers specialty coffees, teas, pastries and acai bowls.
Tax Busters, part of the Jackson Hewitt family, is a seasonal store offering assistance with federal tax returns, income return services, filing services and tax return preparation services.
TrickedOut Accessories is located in a kiosk near Center Court and offers cell phone accessories such as faceplates, screen protectors, chargers, holsters and headsets.
For more information, visit WindwardMall.com.
Most Recent Comment(s):