Letarte Launches Shoe Collection
Compiled by
.(JavaScript must be enabled to view this email address)
Wednesday - November 16, 2011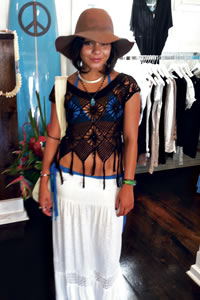 Letarte Launches Shoe Collection
Letarte, the iconic Mauibased label best known for its elite designs of swimwear, cover-ups and sportswear, has launched Letarte Sole, a new shoe collection featuring sandals, espadrilles and wedges. The shoes, which will be sold online and through distinguished Letarte retailers starting in December, come in an assortment of styles and colors consistent with the label's whimsical and bohemian flare. Created by sisters Lisa Letarte Cabrinha and Michele Letarte Ross, the company was founded in 2000 and has since developed a devoted fan base of loyal customers worldwide, including endorsements from Hollywood celebrities.
Recently, actress Vanessa Hudgens (pictured above) was spotted shopping at the Letarte flagship store in Paia, Maui. Also, Audrina Patridge was photographed in Letarte's coral ruched bikini in Malibu this fall. For more information, visit letarteswimwear.com
Kailua Verde Anniversary Sale
Kailua Verde Boutique & Consignment celebrates its second anniversary with a sale Nov. 18-20. All clothing items are 50 percent off, and all other items in the store are 25 percent off. Then, from Nov. 21 through the end of the month, all clothing items are 25 percent off, and all other items in the store are 15 percent off.
Located at 111 Hekili St., the store specializes in upscale gently used women's, men's and children's clothing, custom and fine jewelry, purses and shoes. There also are unique art pieces and woodcraft, including some high-end furniture, consigned by local artisans. "We have received many very nice items, including a Hermes tea set, several items of Spode Christmas China, Tiffany & Co. jewelry and many other pieces," says owner Lilian McDonnell. "Also, our selection of men's clothing and accessories is growing. We have some great Tommy Bahama, Tori Richard, Reyn's, Ralph Lauren and other brands of aloha and dress shirts, some still with new price tags on them. And we have received some very nice fashion jewelry, and we are fortunate to be able to offer a great selection of handbags."
For more information, call 261-6190.
Most Recent Comment(s):