The Creators Of Cake Noodle

By
.(JavaScript must be enabled to view this email address)
Friday - July 07, 2006
|

Del.icio.us
|

Podcast
|
WineAndDineHawaii.com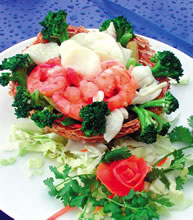 The seafood taro basket at On On is
filled with a variety of seafood
The first noodle cake I ever tried was at On On Chinese restaurant. It turned out to be a serendipitous choice on my part as the Wong family, the owners of On On at McCully, lay a claim to inventing this only-in-Hawaii Chinese delicacy, though there are many imitators of the cake noodle in Hawaii. It's not a dish you'll find in Chinese restaurants on the Mainland. Beware of those carrying false claims to perfection, though - no one creates a cake noodle quite as perfectly as the Wong family do.
"The secret," says Cowan Wong, "is in the slowness of the cooking. Everything must be cooked slowly." A perfect cake noodle should be crisp and golden on the outside, firm to the touch, and have a definite crunch on the first bite. It should be deliciously soft, but not soggy, on the inside - not a combination that can be achieved by deep-frying or super-fast cooking. Time and good technique are the essential ingredients. The cake noodles are famous at On On, and it's easy to see why once you taste them. But the food in general is a little like that at On On. You don't come for a while, and then as soon as you sit down and order from the vast menu, the flavors come rushing back.
There are more than 160 dishes on the menu, and it's hard to choose just three or four, so go with a group if you can and order family style. Boneless minute chicken is as good as it gets here. Moist, juicy, tender chicken is served in bite-sized pieces atop those famous cake noodles with fresh, stir-fried ong choy adding a burst of color to the plate. Always steaming hot - at least when I'm there - the first few bites of chicken and crunch of the cake noodle are bliss.
I'm mad about duck, too, when it's done well and not over-cooked, and On On has the recipe down. The slow-roasted duck meat falls off the bone, leaving a mound of crackling, crispy skin to chew on as a guilty pleasure.
This is basically Northern Chinese cuisine, and some of the most popular dishes include mu shu pork, kung pao chicken and spicy shredded pork.
If you like seafood, then try the seafood taro basket filled with a variety of seafood, or the seafood special fried rice with sea bass filet.
On On offers excellence in Chinese cooking at a very reasonable price, but there's probably no better time to try the restaurant for the first time than during lunch. Lunch specials offer a glimpse of the complete menu at a fraction of the cost. Combination plates, for example, have several popular dishes combined on one plate - in large portions - for around $10, and lunch specials start at under $7.
There are some truly great dishes at On On, and the Wong family has invested almost 30 years of love and passion, resulting in one of Honolulu's most reliable Chinese restaurants. Large parties are welcomed, and special menus are available for groups.
On On at McCully 1110 McCully St. 946-8833
Most Recent Comment(s):