Evelyn Chang

Wednesday - January 25, 2012
By
.(JavaScript must be enabled to view this email address)
|
Share

Del.icio.us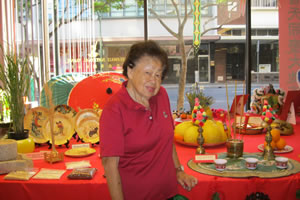 To celebrate Chinese New Year, the main branch of Hawaii National Bank in downtown Honolulu is adorned with narcissus plants, embroidered robes, paper lanterns and more. For the last 30 years, Hawaii National Bank has been displaying items like this to ring in the new year. And each year, about 3,000 students visit the bank to view the display and learn about the holiday.
The woman behind all of this is Evelyn Chang, a longtime Hawaii National Bank employee who, after being retired for several years, still volunteers to set up the display and lead the tours. Chang was born and raised in Hawaii, and started working at Hawaii National Bank in 1970 as a manager. In the '70s, a group of Chinatown merchants started a friendly competition they challenged each other to see which business could have the best New Year's display.
"I started off with a display the size of a card table because I didn't have very much to show," says Chang. The next year, however, she started gathering more and more items to showcase. "After the first year, there was no contest we always won first prize."
Over the years, Chang has gathered items during trips to China, and the collection has expanded to a large window display.
The display and Chang's presentation that goes along with it is open to the public, but tends to mainly attract students from preschool through high school. Around the Chinese New Year, busloads of schoolchildren take field trips to Chinatown to visit various stores. The Hawaii National Bank display is often considered a must-see during these trips. During the students' visits, Chang tells them about new year customs. She also has created a mini-lecture about rice for students, in which she shows them a rice plant and explains where rice comes from.
Although Chang admits that the tours can get very busy she sometimes meets with up to 600 students a day it's all worth it for the chance to educate children and pass along her knowledge of Chinese culture.
"The children are very interested," she says. "Every time they come in, they are so attentive ... I have the satisfaction that the children learn a little something about Chinese culture ... I hope that they will come to appreciate parts of the culture that they didn't know about before."
"Everybody is welcome to visit the display. They are all welcome to come celebrate the Chinese New Year with us."
To attend Chang's presentation, call the bank at 528-7768 to make an appointment. The presentation lasts about 20 minutes. The display and presentation run through Feb. 6.
Most Recent Comment(s):