Feed The Hunger Foundation

Wednesday - January 11, 2012
By
.(JavaScript must be enabled to view this email address)
|
Share

Del.icio.us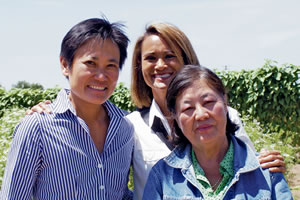 Patti Chang (left) and Denise Albano (center) with Mai, a local farmer. Photo by Susanne Kurisu
For millions of people throughout the country, purchasing nutritious food is a challenge. Last year, the U.S. Department of Agriculture reported that an estimated 23.5 million people in the U.S. live in a food desert an area in which residents do not have access to fresh, healthy and affordable food. It also found that more than half of food desert residents are low-income. While there are no statistics on food deserts for Hawaii yet, we do know that there were 154,464 individuals in the state who were on the USDA Supplemental Nutrition Assistance Program (SNAP) last year. For SNAP recipients, too, healthy food options can be limited. One reason is that SNAP benefits are not accepted everywhere.
The GreenWheel Food Hub and its sponsor Feed the Hunger Foundation (FTHF) are partnering with Whole Foods to help low-income communities gain access to fresh, local food with the Recycle Your Change Campaign. Through the end of January, Whole Foods in Kahala will collect customers' change. When shoppers check out, they will have the option to donate their spare coins to the campaign.
"The proceeds will go specifically to a GreenWheel Food Hub project to bring Electronic Benefit Transfer (EBT) to farmers markets, and also possibly to have a mobile market, which would bring fresh produce to areas that don't have access," explains FTHF president Denise Albano.
By implementing EBT payment options, the GreenWheel Grow Bucks Project would enable the use of SNAP benefits at local farmers markets. This means that SNAP recipients could purchase fresh, local fruits and vegetables. Currently, most farmers markets do not accept SNAP benefits.
"We want everybody to be able to access fresh, local produce because it has such an impact on people's health and the quality of their well-being," explains FTHF CEO Patti Chang.
FTHF was co-founded four years ago by Albano and Chang as a way to support local food systems. In addition to its work in food security in Hawaii and California, FTHF also supports a range of international programs.
In addition to the Grow Bucks Project, GreenWheel also is working to start a mobile market a farmers market food truck that will travel to various locations throughout the island to deliver healthy produce.
"Our goal is to have Hawaii be as food secure as possible," Chang says. To participate in the Recycle Your Change Campaign, stop by Whole Foods Kahala to make a donation. For more information about FTHF, visit feed-hunger.com.
Most Recent Comment(s):