George Szigeti And Tom Mullen

Wednesday - April 20, 2011
By
.(JavaScript must be enabled to view this email address)
|
Share

Del.icio.us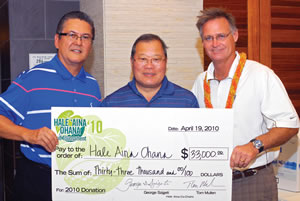 Photo courtesy Hale Aina Ohana
Once again George Szigeti and Tom Mullen (seen on left and right, respectively, presenting a check to Culinary Institute of the Pacific director Conrad Nonaka) are cookin' up plans for the Hale Aina Ohana Golf Tournament, to be held on April 25 at the Kapolei Golf Course.
As co-chairs of this annual event, Szigeti and Mullen have a lot on their plate, be it organizing and attending all golf committee meetings; raising money through sponsorships; working with restaurants and chefs to orchestrate the food and beverage choices for the big day, and most of all soliciting participation for the tournament that helps raise funds for Hale Aina Ohana, which brings programs and industry experts to more than 2,000 local culinary students each year for hands-on learning.
"Having a vibrant dining industry in Hawaii is a great driver of economic growth for Hawaii, and the activities Hale Aina Ohana supports are ultimately geared to support that," says Mullen, American Express vice president. "By bringing cutting-edge techniques and unique culinary experiences to students and professionals, we help raise the bar and ensure the quality of culinary experiences that both locals and visitors have come to expect and enjoy about Hawaii."
Last year the tourney brought in more than $35,000, and this year they hope to do just as well.
"We always plan to raise the bar, and I'm hopeful we can raise $35,000-plus to support our local culinary education programs," says Szigeti, Better Brands president. "We really enjoy putting this event together because we know people really enjoy coming. Every year there is something new that the participants can look forward to."
"Although it is hard work and at times stressful, the day of the tournament, when it all comes together, there is such great satisfaction that we were able to pull it off again," adds Mullen. "It's a wonderful feeling to know that we raised enough money to keep our programs coming to the students and professionals for another year."
For more information about the tournament and ways to donate to Hale Aina Ohana, visit haleainaohana.org.
Most Recent Comment(s):