Counting The Days Until He's Home

By Brittany Yap
November 23, 2005 - MidWeek
E-mail this story | Print this page | Comments (0) | Archive


| RSS
|

Del.icio.us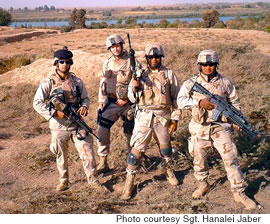 From left, Spc. Hanalei Jaber, Sgt. Shawn Sheehey,
Spc. Charles Haiola and Sgt. Winnie Agapay
in Iraq
In January, my fiancé, Hanalei Jaber, left for Iraq. He is a specialist in the 100 Battalion, 442nd Infantry, attached to the 29th Brigade, which recently lost three men to Improvised Explosive Device (IED) bombs.
This year has been one of the hardest of my life. I feel so much anxiety, stress and helplessness. But everyone reminds me that I must be strong for him. I tell myself that God wouldn't deal us something that we cannot handle.
Communication has drastically improved since the beginning of the war, and today Hanalei calls me at least once a week and chats with me online from his computer in his trailer. But I still worry. He often goes out on patrols and I know he's seen some horrible things, but he never talks about them to me. All he says is "I'm OK and I'll be fine." I never push the issue, but a part of me hopes he opens up when he gets home.
Without Hanalei here, the TV fills the empty noise. Zippy's is my kitchen. I have computer withdrawals whenever I can't be near one. I jump every time the phone rings. The bed seems a lot bigger and I daydream more than I ever did before.
April was my breaking point. I was diagnosed with ulcerative colitis, which is ulcers in my colon, because of too much stress and anxiety. Sharp pains moved from my chest to my lower stomach. I missed a lot of school and I lost 12 pounds. Unfortunately, this happened when Hanalei was home for his two-week break. However, we did spend a lot of time together, and he took care of me.
Since May, my body has recovered somewhat, but doctors say that the condition will never go away. It's just something I have to control by a healthy diet, low stress and medication. I have focused more on work and school. The situation led me to become the military reporter for The Voice of Kapolei. I learned more about Muslims and Islam because I want to understand their culture. I feel that there are many misunderstandings between the West and the Middle East, which the media and politicians perpetuate. I strongly feel that soldiers coming back from war have a duty to bridge the gap between the two cultures.
Many people have helped me get through this difficult time. I'm thankful for Hanalei's strength, my parents' support, my friends' humor, and my roommates' understanding. The boys up there serving with Hanalei are also like brothers to me. Some of them are good friends whom we knew before deployment.
They take care of me and look out for me, even from all the way over there.
They write me e-mails to let me know everything is OK. Sometimes those e-mails make the difference in my day, because I know Hanalei got back to the base safely.
This tough year has forced me to reconnect with myself and find my inner strength. My Christmas will come later than usual this year. I am expecting him home in January.
I hope the Christmas tree stays green until then.
Brittany Yap, a 2002 Kamehameha Schools graduate, is a senior at Hawaii Pacific University studying journalism.
Most Recent Comment(s):