EuroCinema Hawaii And HIFF
By Jefferson Finney
October 20, 2010 - MidWeek
E-mail this story | Print this page | Comments (0) | Archive


| RSS
|

Del.icio.us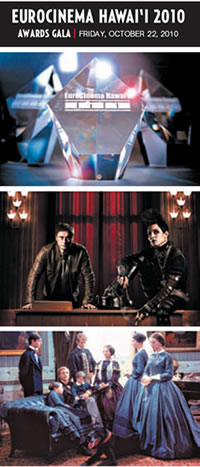 EuroCinema Hawaii is a festival within the Hawaii International Film Festival. Above are scenes from The Girl Who Kicked The Hornet's Nest (middle) and The Leopard
Founded and incorporated in 2009, EuroCinema Hawaii is dedicated to the advancement of understanding among and cultural exchange between the peoples of Europe and Hawaii through the medium of film, and equally important, to the financial support of student filmmakers in Hawaii through the University of Hawaii System's Academy for Creative Media.
EuroCinema Hawaii is a year-round endeavor which, in addition to the film festival, sponsors intimate "ECH Salons" - cultural exchanges designed to bring our community together with special guest speakers.
In April of this year, EuroCinema Hawaii announced its partnership with Hawaii International Film Festival (HIFF), creating a festival within a festival. EuroCinema features a special section of films, people and events, with the ultimate goal of increasing exposure of European films in the islands.
EuroCinema Hawaii is excited to share the extraordinary and diverse cinematic heritage of European films with the people of Hawaii and its visitors, and to support our local student filmmakers.
Our annual festival includes a separate jury comprised of film directors, producers, actors and film scholars charged with selecting the Princess Dialta Alliata di Montereale Award for Best Film, Best Student Film, as well as the categories of Best Director, Best Actress and Best Actor. This year our festival proudly presents the Hawaii premieres of eight top new films from France, Germany, England, Italy, Norway, Russia, Sweden and Denmark, including the thriller sensation, The Girl Who Kicked The Hornet's Nest, and Martin Scorsese's acclaimed restoration of Luchino Visconti's 1963 masterpiece The Leopard, or Il Gattopardo.
Jefferson Finney is the president of EuroCinema Hawaii. For more information and to learn about other EuroCinema events, please go to eurocinemahawaii.org.
Most Recent Comment(s):