Darvish Not Your Ordinary Import

By
.(JavaScript must be enabled to view this email address)
Wednesday - January 25, 2012
|
Share

Del.icio.us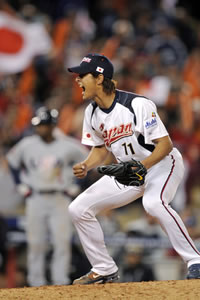 Darvish reacts after striking out Adam Dunn in a World Baseball Classic game. AP photo
I've got to admit to not being very excited about the Texas Rangers signing Japanese pitching star Yu Darvish. It has nothing to do with the $51.7 million it spent to get negotiating rights to the 6-foot, 5-inch prodigy. Nor is it the $60 million contract, competitive balance in the American League or an entire season of Chris Berman-inspired name play (The Whirling Darvish, Yu the man!, Yu can't touch this, Show Yu the money!) that inspires trepidation.
The biggest downfall of Darvish's signing is not what it does to the Nippon Professional Baseball league, but to my own enjoyment of the game. Watching him pitch live was always a treat. The three-day motorcycle trips and the onsen baths afterward weren't bad either.
Japanese baseball is built on pitching and defense, and with Darvish on the mound, the game became an event. He wasn't just the face of the franchise but the face of the entire sport. His hero status in his native country was solidified after his outstanding play in the National High School Baseball Tournament and his refusal of MLB offers out of high school.
Side Bar: For the record, his former team was not the Ham Fighters. The team is not named for aggressive pork products but for NipponHam, the corporation that owns the team. They are the Fighters, or more correct, the Hokkaido NipponHam Fighters. If you go, try the takoyaki sold outside of the Sapporo Dome, the Fighters' home stadium. Awesome.
Back to the action.
Like many Japanese pitchers, Darvish throws a variety of pitches. Unlike most, they are all pretty nasty. He hits 95-97 mph with his fastball, has a curve that former Fighters and Kansas City Royals manager Trey Hilman called unfair, and an impressive forkball and slider. Count Red Sox manager Bobby Valentine as another fan who got to see Darvish up close during his years managing the Chiba Lotte Marines. Now it's Nolan Ryan's turn to sing the praises of his new Japanese-Iranian import.
But the question remains: Can he match his previous success?
In seven professional seasons (he pitched his first NPB game at 18), Darvish went 93-38 with 55 complete games, 18 shutouts, 1,250 strikeouts, 333 walks and a 1.99 era. If he can do it, carve the bust, rename him Walter Johnson and start cruising Japanese high schools. But he won't. Major league hitters are stronger, the season longer and the move from a six-man to fiveman starting rotation will test his stamina, especially in the summer heat of Texas. But he can be No. 1 on a team boasting a solid but not spectacular core of young, starting pitchers.
Daisuke Matsuzaka didn't kick open the door for Japanese pitchers, nor did his struggles since his impressive second season hurt the marketability of his fellow countrymen. But he will be the measure against which Darvish will be compared.
Both pitchers made their professional debut shortly after finishing impressive high school careers and have logged a lot of innings in respect to their youth. Darvish is a year younger but pitched 105 more innings than Matsuzaka (1,266.7 to 1,161.4) upon entering Major League Baseball, and that's going to be a concern. The popular opinion is that the Japanese training system burns out young arms, and that sure seems to be what happened to Matsuzaka.
But Darvish may just have the body to overcome the early stress. He is 5 inches taller and 25 pounds heavier than Matsuzaka, and throws with a looseness the more muscular Matsuzaka never had. Perhaps most important, Darvish's international upbringing should help him handle the culture shock that impacts every athlete when they play in foreign lands. We'll see.
.(JavaScript must be enabled to view this email address) Twitter @SteveMurray84
Most Recent Comment(s):