Assisting A Medical Mission
By
.(JavaScript must be enabled to view this email address)
July 27, 2011
|
Share

Del.icio.us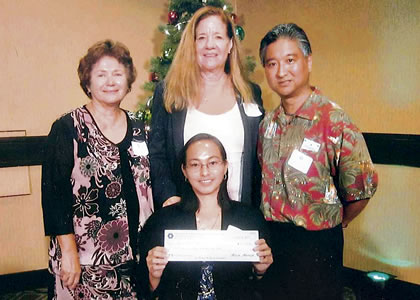 Assisting A Medical Mission
Aloha Medical Mission's Honolulu Dental Clinic received $10,000 at The Harry & Jeanette Weinberg Foundation's Christmas in June luncheon. Pictured are patient Donna Cruz (seated) and (from left) Greer Cruz, Donna's mother-in-law; Susan J. Hughes, Aloha Medical Mission executive director; and Sid Tsutsui, controller for The Jeanette & Harry Weinberg Foundation.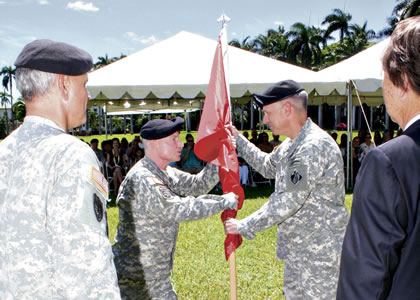 Change Of Command
Hawaii Brig. Gen. Richard L. Stevens (right) receives the Army Colors from Maj. Gen. W. B. Temple during a Change-of-Command ceremony June 30 on Palm Circle, Fort Shafter. Col. Edward J. Kertis (front left) relinquished command of the Corps' Pacific Ocean Division to Stevens, who became the division's 30th commander.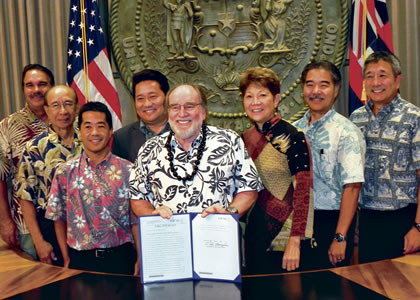 Bill For Broadband Infrastructure
Gov. Neil Abercrombie signed House Bill 1342 June 21. The bill, now Act 151, expedites the permitting process for broadband infrastructure. With this measure, broadband providers are exempt from state and county permitting requirements for installation, construction and development of broadband infrastructure for a five-year period. Pictured (from left) are Norm Santos, Ret. Vice Adm. Robert Kihune, Everrett Kaneshige, state Rep. Kyle Yamashita, Abercrombie, state Sens. Carol Fukunaga and David Ige, and John Komeiji.
A Spot in HOT SHOTS
MidWeek's
Hot Shots wants to recognize and salute accomplishments by Honolulu's outstanding individuals and groups.
Hot Shots photos feature a wide variety of people and events - an award winner, a scholarship winner, new officers of a civic club, a couple celebrating a significant anniversary with their family, a team championship, a groundbreaking, unveiling of a new work of art, dedication of a new building, a civic honor.
Please send your photos and announcements by mail to
MidWeek Hot Shots
500 Ala Moana Blvd., Suite 7-500 , Honolulu, HI 96813, or by e-mail to
dchapman@midweek.com
Most Recent Comment(s):