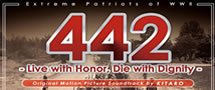 Wednesday - September 15, 2010
By
.(JavaScript must be enabled to view this email address)

Movies Showtimes
Share

Bob Jones
MidWeek Columnist, war correspondent, honorary 100th Battalion Veterans Club member
Where did you see the movie?
I went to an advance showing for some of the 442nd veterans at the Japanese Cultural Center.
Overall, what did you think?
It's not a bad documentary film. Too bad it isn't promoted as a movie about both the 442nd and its 100th Infantry Battalion, which was the first AJA unit to go into combat in World War II. The real question is, why was it made?
There are three other 100/442 films out there. PBS Hawaii's Journey of Honor by Stuart Yamane, Loni Ding's Nisei Soldier, and Valor With Honor by Torasan Film Productions.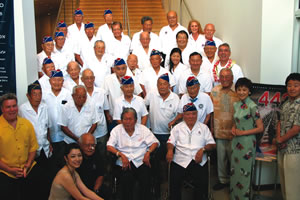 Veterans of the 442nd Infantry Regiment at the Maui Film Festival with friends and family. Photo courtesy of Minako Tsuda of United Television Broadcasting Systems.
On a scale of one to four stars, what would you rate this film?
★★ overall, and that's mostly to hear Sen. Dan Inouye say it's no fun killing people, even enemy people. And the timing could be impeccable if the U.S. House OK's the Senate-approved Congressional Gold Medal for every surviving member of the 100/442.
Were there any scenes other than warfare and interviews you found particularly interesting?
The West Coast nisei evacuation and Europe combat archival film is interesting, but again, it has all been used before, even by me in my two AJA documentaries, Caps, Gowns & Barbed Wire and One Puka Puka. The contemporary cinematography in this new one is pretty amateurish, with stilted interview poses, and too much busy stuff on screen with two-language subtitles and dialogue titles when people are hard to understand.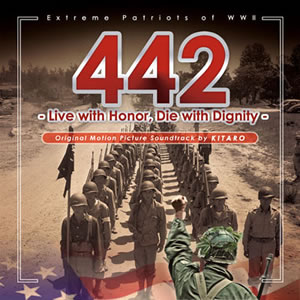 To whom would you recommend this movie ?
This film might interest veterans' great-grandkids, but I think their immediate families have heard and seen it all. Also, there's way too much gruesome footage of Dachau bodies. And at 97 minutes, the film is 37 minutes too long.
Most Recent Comment(s):