Wednesday - August 19, 2009
By Kerry Miller

Movies Showtimes
Share

Ralph Valentino
Member, Hawaiian Trail and Mountain Club
Where and with whom did you see the movie?
I went to Mililani Town Theaters and I went with my girlfriend, Laura Owens, who is from Kauai.
Overall, what did you think?
It's a good action movie and it's a thriller with a big, unexpected twist.
What did you think of the acting?
I've seen the four leads: Steve Zahn actually played a character with a little more depth than normal, which is good. Normally he's sort of a slapstick guy.
Timothy Olyphant, he's from Hawaii, he usually plays a dark character in a lot of stuff. Some of that was evident in this, he did a good job. Milla Jovovich, she's a favorite of mine, but sadly this was nothing for her. She acted OK, but she's more of an action movie-type girl.The new face was Kiele Sanchez. She had a good part, and I think we will see more of her. She's a good actress.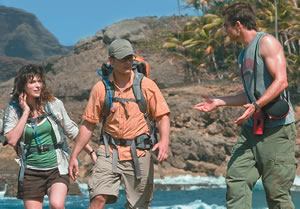 Did you enjoy the scenery in this movie and did you recognize any Hawaii spots?
We sure did. You could tell that some of the scenes were not on Kauai, but quite a few were - a lot of the aerial photos showing the Na Pali Coast and the beach at Kalalau.When they got to shooting individual scenes, a lot was shot in Puerto Rico. They kayaked into a sea cave and it was very similar to one of the sea caves that we have here.
What about the storyline? Did it keep you guessing until the end as to who was the bad guy?
It did keep us guessing.The movie was over before we knew it. It could have gone on another half hour and it wouldn't have been too long. You're always wondering, "Is it them, or is it them?"
Were the characters portrayed as people who were smart hikers?
Timothy Olyphant's character and his character's girlfriend, played by Kiele Sanchez, you could tell they'd been on hikes; they'd been there before and it was nothing to them.Another couple that comes in and out in the movie, they were very local and they don't buy backpacks. Steve Zahn and Milla Jovovich, they were Mainland people, they talked quite a bit about the trail being 11.9 miles long.We were laughing; it's a long one-day hike to get in there. The Kalalau Trail is probably our most internationally known trail.
If you go there, there are almost always foreigners on that trail. It's quite well known as far as backpackers go.
How scary is this movie, in your opinion? What would you rate it on a scale of one to four stars?
Scary, for me, it would only be ★★, a little higher for my girlfriend. There were just a few scenes where she had to close her eyes.
Did you have a favorite character or scene?
Timothy Olyphant surprised me. He is not someone I would see in the credits and would want to see the movie.To me, he took the movie, he stole scenes. He's a curious character.You sort of didn't trust him all the time - that added a nice allure to his character.
What's new?
The year 2010 is our, Hawaiian Trail and Mountain Club, centennial celebration. Our club was initiated in 1910. People can check more about the club at http://htmclub.org.
Most Recent Comment(s):